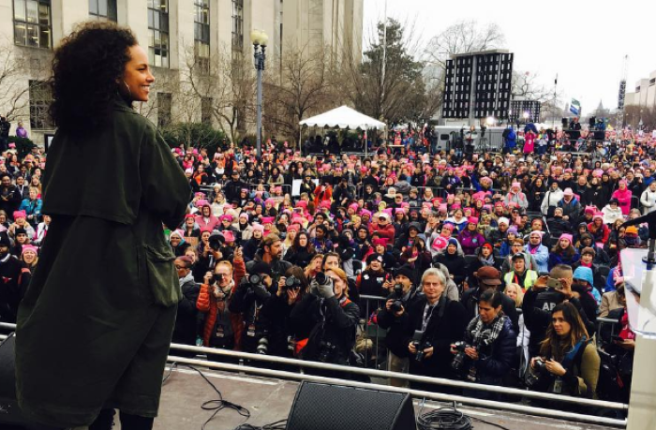 Women's March on the world: 25 celebs who made their voices heard
Yesterday, millions of men, women and children from around the world took to the streets for the Women's March.
With the original intent of marching in Washington D.C. to protest Donald Trump's discriminatory message throughout his presidential campaign, word quickly spread, and hundreds of thousands of people wanted to rally for the cause.
We were proud to walk the streets of Dublin yesterday alongside thousands of you, and it seems we weren't the only ones.
Famous faces from all across the globe also got their walking shoes on and have been flooding our social media with inspirational messages ever since.
Here are just some of those who made their voices heard.
1. Amy Schumer
2. Lena Dunham
3. Alicia Keys
4. Joseph Gordon-Levitt
5. Madonna
6. Rihanna
7. Pink
8. Helen Mirren
9. James Franco
10. Chrissy Teigen
11. Charlize Theron
12. Drew Barrymore
13. Miley Cyrus
14. Mark Ruffalo
15. Uzo Aduba
16. Jessica Chastain
17. John Legend
18. Nicole Richie
19. America Ferrera
20. Nick Offerman
I'm a nasty girl #WomensMarch pic.twitter.com/GjFriucGUY

— Nick Offerman (@Nick_Offerman) January 21, 2017
21. Sophia Bush
22. Mandy Moore
It's not a #WomensMarch without @Janefonda (and @rp1313 and #katherineschwarzenegger) . What a day. One for the books. United against hate. pic.twitter.com/tg9FoSyoFB

— Mandy Moore (@TheMandyMoore) January 21, 2017
23. Seth Rogen
I'm proud to be at the #WomensMarch in New Orleans, one of the greatest cities in the world. pic.twitter.com/jneG6F1EcY

— Seth Rogen (@Sethrogen) January 21, 2017
24. Gina Rodriguez
Si se puede. pic.twitter.com/DesrVrJ6bv

— Gina Rodriguez (@HereIsGina) January 21, 2017
25. Brie Larson
I'M EVERY WOMAN #WomensMarch pic.twitter.com/j0epqe1nZP

— Brie Larson (@brielarson) January 21, 2017