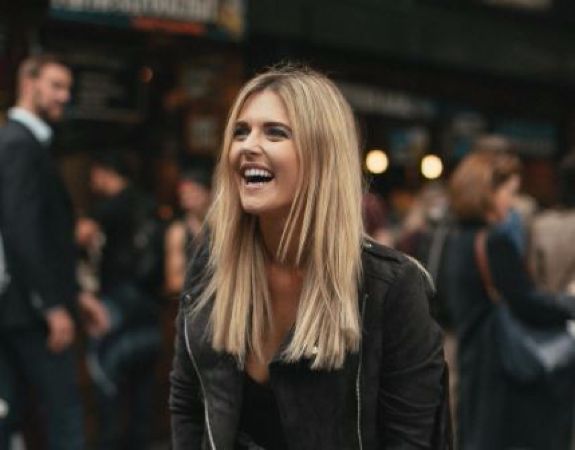 What I Eat in a Day: Eimear Varian Barry's praise for a 'massive feed'
Talented stylist and mother of two, Eimear Varian Barry, is the kind of girl we wish we could count as a friend.
Her perfectly curated Instagram account made us follow her, but it is her funny, pretty and authentic daily Insta stories that really got us addicted.
And now the Cork-native speaks to SHEmazing about her eating habits and what she loves to cook for her family and friends.
What is your typical weekday breakfast?
My go-to breakfast is 3 hard boiled eggs and a small avocado or Flahavan's organic porridge.
What about lunch?
I usually have a French baguette with vintage cheese and Ballymaloe relish and spinach, or leftover dinner from the night before! I love mozzarella on sourdough with balsamic and basil too.
What do you usually have for dinner?
I LOVE cooking dinners. I'm not the best chef, but I still love cooking. I'll do all the basics like spag bol, shepherds pie, lasagna.
I love making beef stew and having it with fresh bread and Kerrygold butter!
Is it different at the weekend?
Yeah – I always get an Indian or Thai on a Friday night.
Saturday I'm usually in London working, so will dine out and Sunday is usually a roast.
Do you snack during the day?
I love fruit and veg as a snack and anything cheese-related! Brie on an oat cracker with honey on top is so good.
Also sugar snaps, bananas, blueberries, carrots and hummus are always in my fridge!
What would be your ideal food day?
I love the avocado on toast in Bill's for breakfast, or the fresh pastry basket at Berners Tavern at the London Edition.
The Riding House Cafe has amazing food (big, rich portions).
Dishoom's lamb chefs special for dinner and Jamie's Italian for dessert!
The one food you could have everyday for the rest of your life?
Thai food!
What is your favourite dessert?
Cheesecake, biscuit base, not baked.
What is your favourite meal of the day?
Dinner! I love being hungry for a massive feed! Haha!
I just love the art of dining. And having the family eat at the table is really important to me.
Your favourite restaurant in Dublin/Ireland/the world?
I was just in Berlin and was blown away by House of Small Wonder.
I'm also obsessed with all of Jamie Oliver's restaurants.
The best brunch place in Dublin?
Definitely The Pepper Pot! I love Industry & Co for sweet bites and coffee.
What food would you not eat for the whole world?
Don't think I'd ever be into Asian street food…frogs and all that..
What can we always find in your fridge?
I always have bottles of water, organic Yeo Valley milk, organic cheese, brie (the good stuff) , Kerrygold butter, Ballymaloe relish, mayo, strong mustard, cherry tomatoes, organic Greek yoghurt, organic beef, basil, coriander, spinach, broccoli, hummus.
This is quite boring actually!
You have friends over for dinner, what do you cook for them?
I love doing big pies that you can just dig in and dish up . Like, cannelloni or lasagna or chicken pot pie.
Do you find it hard to eat a healthy diet on a daily basis?
No, not at all. I'm not an obsessive healthy eater, but in general I eat good, wholesome healthy food.
I wouldn't touch crisps, fizzy drinks or deep fried food.
What is your guilty pleasure?
Those little butter biscuits you get with your coffee. They sell them now in Tesco and I'm obsessed!!
What is you go-to drink/cocktail in a bar/pub?
I rarely drink, but when I do, it would be a lager. Even the smell of ale gives me a headache.
Sometimes I have red wine in the winter.
Cocktail wise, I like an Amaretto Sour or a Tom Collins.