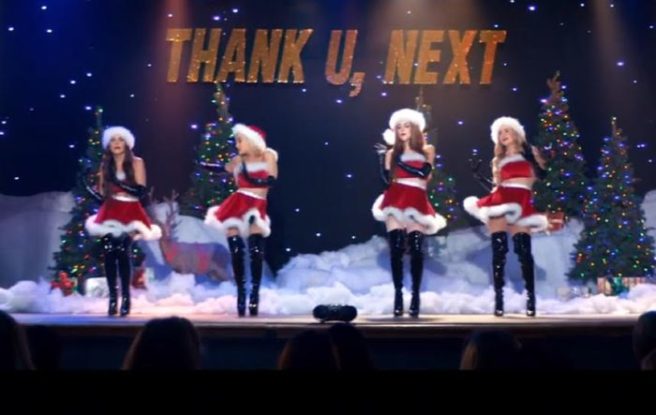 Ariana Grande's Thank u, Next video is here (and Kris Jenner's in it)
The moment we have all been waiting for – Ariana Grande's 5 minute long, 00s movie montage video for Thank u, Next has finally landed.
In the opening scene we see Ari posing as Regina George, clutching a Burn Book inspired Thank u, Next diary.
However, instead of being filled with insults, its a scrapbook of happy times with ex boyfriends. Over the picture of ex-fiance Pete, she writes 'Sorry I dipped' in red marker.
Them, Ariana and her Mean Girls crew perform the Jingle Bell Rocks dance – and the one and only KRIS JENNER is there to stand in as the 'Regina George's Mom' character.
Ariana, you ARE doing amazing, sweetie.
Next, we see major references from the iconic film Bring It On – except rather than being hung up on a guy, Ariana is her own love interest, making mix tapes for herself.
The 13 Going On 30 scene is brief – but clearly portrays a lost love of Ariana's who moved on with someone else.
Ariana then sits down in the salon with Jennifer Coolidge and portrays the entire movie of Legally Blonde.
The video ends with Ariana flipping the camera the bird, and laughing, dancing and goofing around with friends. It's clear that while Ariana may have taken inspiration from and paid homage to teenage rom-coms of the past, she's now writing her own script for her future.