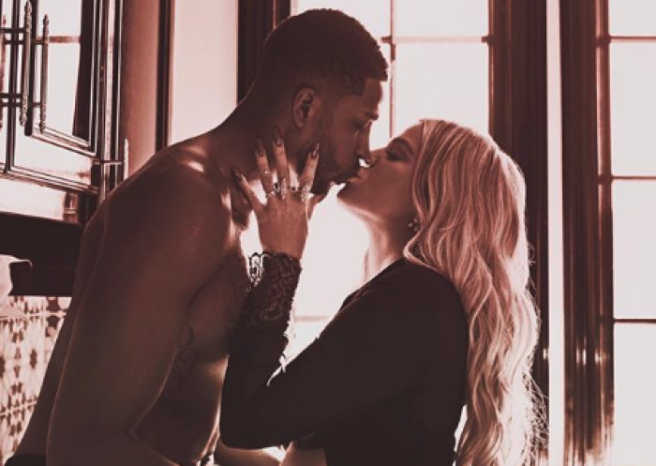 Tristan Thompson cheating scandal: The shadiest tweets RN
The Internet has been in convulsions attempting to digest the news that Tristan Thompson has allegedly cheated on Khloe Kardashian, who is currently 9 months pregnant.
TMZ released a video of Tristan, in which he appears to kiss two women on a night out. Other photos show him kissing another woman in a club, before being spotted entering and leaving a residence with her.
His alleged lover, and Instagram model who goes by the handle mis.stephaniee, then went further, releasing a sex tape on her Instagram story which she claims shows herself and Tristan in the throws of intercourse. She also claims to be pregnant with his child.
The graphic video has since been removed, along with her Instagram profile.
Neither reps for the Kardashians, nor Tristan himself, have released a statement regarding the matter, leaving the internet to speculate on the scandal:
Me: I should really go to bed
Internet: Tristan Thompson cheated on pregnant Khloe
Me: pic.twitter.com/y7yQG4gm8z

— Michelle Reitenauer (@MichelleReit) April 11, 2018
Tristan Thompson too tall to be cheating in public. You the only 6'9" nigga in the club. We know that's you dawg

— ️ (@snoop) April 11, 2018
#TristanThompson be like: pic.twitter.com/DRJkMKuTsK

— (@ShesSweetVenom) April 11, 2018
When you find out your pregnant sister just got cheated on but lip kits ain't gonna sell themselves… #TristanThompson #KhloeKardashian pic.twitter.com/0hnOm3MDjy

— (@_hot__tea___) April 11, 2018
All of y'all are sleeping, meanwhile Kris Jenner is getting ready to finesse this Tristan Thompson situation into a book deal, a Netflix mini-series, and a partnership with the NBA… pic.twitter.com/GJ7GM5oqw5

— Chillmonger (@DT_fresh) April 11, 2018
Tristan Thompson when he sees Ms Stephanies insta story pic.twitter.com/Rhl6uoUWii

— Big Cat (@BarstoolBigCat) April 11, 2018
kris jenner preparing to make a few phone calls and end tristan thompson's career pic.twitter.com/mE65eGzyWA

— kathleen (@kathleen_hanley) April 11, 2018
Tristan Thompson cheating on Khloe is the manifestation of how you get him is how you lose him.

— Monique Judge (@thejournalista) April 10, 2018
Tristan Thompson's first baby mama seeing the news pic.twitter.com/3UnTbWDBiC

— sku ski sku (@thatgurlhelen) April 10, 2018
I genuinely thought that Khloe and Tristan Thompson were so cute together and I didnt think he was gonna pull this type of fuckery on her pic.twitter.com/SA5tbvNZVj

— lauren(@cerezitaalexaa) April 11, 2018
Happy National Pet Day to the biggest dog in town – Tristan Thompson @RealTristan13

— Sarah Magliocco (@SarahMagliocco) April 11, 2018