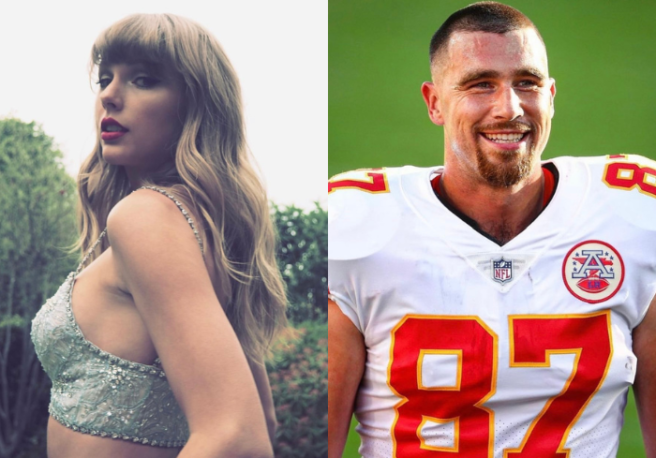 Travis Kelce finally opens up about his romance with Taylor Swift
Travis Kelce has finally opened up about *those* viral moments he had with Taylor Swift in Argentina!
The NFL star flew out to Buenos Aires last weekend to spend some quality time with the Anti-Hero hitmaker, as she performed to crowds as part of her Eras Tour.
During the weekend's events, footage of the couple went viral as a kiss between the pair was captured.
Taylor also chose to declare her new relationship to the Argentinian crowd at the end of her concert. During the song Karma, she changed the lyrics to: "Karma is the guy on the Chiefs, coming straight home to me," in reference to Travis' team, the Kansas City Chiefs.
A few days on, Travis has finally decided to spill all the details about his whirlwind weekend.
Speaking on his podcast New Heights with his brother Jason, the 34-year-old joked about his moments with Taylor going viral.
| Karma is the guy on the @Chiefs coming straight home to me pic.twitter.com/1HGw0aassB

— Taylor Swift Updates (@swifferupdates) November 12, 2023
"For those of you who haven't seen all the videos of me on your TikTok and your Instagram feed, I was enjoying myself down there in Buenos Aires. The show was even more electric, knowing that I had a little bit more to enjoy it for," he teased, adding: "Taylor absolutely ripped it. She killed it and it looked like she was having some fun up there."
When asked about Taylor's surprise lyrics change, Travis admitted: "I had no clue. Well, I might have had a little bit of a clue, but definitely when I heard it come out of her mouth, it still shocked me. I was like, 'Oh, she really just said that!'"
Lastly, the football star was asked how the new couple spent their downtime in Argentina, to which he noted that they "got some good food".
"The only night that we had a chance to go to dinner was the night that the show got postponed. We didn't want to just go and have a blast through the city like we didn't care about the show, so we made sure we stayed in the hotel and kept to ourselves," Travis detailed.