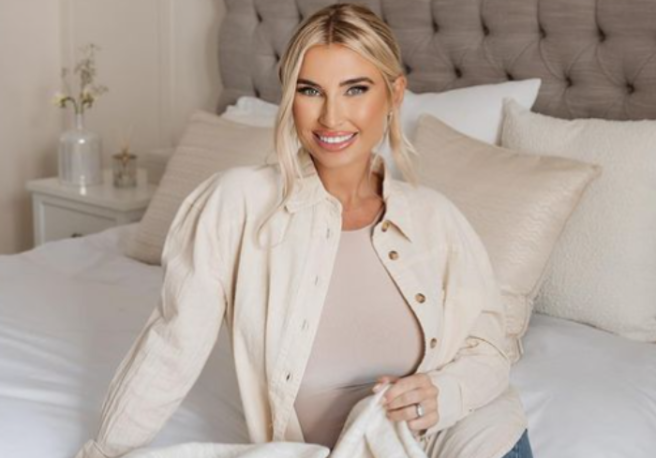 TOWIE's Billie Faiers reveals three-day long labour story
Billie Faiers has shared her birth story from when she welcomed her third child, Margot, into the world.
The former The Only Way is Essex star welcomed Margot into the world on December 2, and spoke on her podcast with her sister, The Sam & Billie Show, about how her labour went.
Billie revealed she had just sent a photo to Sam and her mum of her baby bump when, "I was pottering around in my dressing room just putting some more things in the baby bag and then all of a sudden I lent over and I felt a big gush, basically my waters had broke".
"I couldn't believe it. I couldn't believe finally something was happening. Obviously I was early, I wasn't overdue or anything, I just felt ready".
"I WhatsApp called Samantha and Mum straight away so we were on a three-way call and I was like, 'My waters have just broken'".
The 33-year-old continued her story by explaining how she wanted to get as close to giving birth as she could at home before heading into the labour ward. "My plan was to stay at home for as long as I could before going into hospital because I was no longer doing a home birth".
Billie's mum and sister then came over for the night, expecting the baby to be born that evening or early the next morning, but there were no signs of Margot for another day.
The mum-of-three then had to go into hospital to be induced as her waters had been broken for over 24 hours, meaning she could be more prone to getting an infection.
"Not everything goes to plan obviously but I was gutted because I knew being induced meant I couldn't go in the birthing pool and I actually really wanted to try for a waterbirth this time".
After two days of no sleep and no contractions starting, Billie was given a pessary to no avail so she was then put on an oxytocin drip which made her contractions start quickly. "It literally went from zero to 100", Billie revealed as she started contracting strongly.
"Margot's head was there… but my cervix wasn't open so it wasn't dilated", Billie added before sharing that Sam couldn't stay in the room while she gave birth and ended up on the motorway home when their mum called to say Margot was on the way.
Luckily, Sam was on FaceTime when her new niece made her arrival into the world.
After three days of being in labour, Margot was born and as Billie didn't find out the gender before she was born, she counted on her partner Greg to announce that they had a little girl.
The couple, who tied the knot in 2019, are already proud parents to eight-year-old Nelly and five-year-old Arthur.