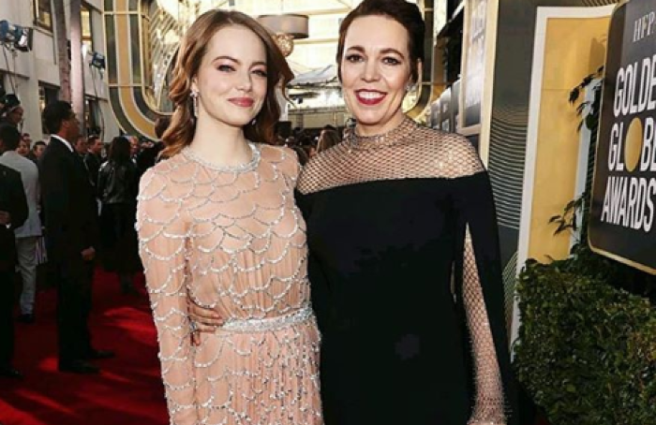 This is why Emma Stone screamed 'I'm sorry' at the Golden Globes
The Golden Globes opened with some cracking jokes on Sunday night.
The opening monologue was delivered by Sandra Oh and Andy Samberg.
The big cinema hits such as Black Panther, A Star is Born and Crazy Rich Asians were targeted as the comedic material.
While most were chucking along, not everyone was giggling – cough, cough Emma Stone.
The actress was heard apologising as one the jokes got a round of applause from the crowd.
The joke came from Sandra, who praised Crazy Rich Asians for finally representing Asians accurately in Hollywood.
The actress teased: "It is the first studio film with an Asian American lead since Ghost in the Shell and Aloha."
As the words poured from her mouth, you can hear Emma Stone scream: "I'm sorry."
Sandra Oh: ["Crazy Rich Asians"] is the first studio film with an Asian American lead since "Ghost in the Shell" and "Aloha."

Emma Stone [in the crowd]: I'M SORRY! pic.twitter.com/YI1S7sLvPH

— David Mack (@davidmackau) January 7, 2019
Her apology comes as Ghost in the Shell and Aloha was slammed for white washing.
In Aloha, Emma took on the role of Allison Ng, whilst Scarlett Johansson starred as the main character in the anime adaption of Ghost in the Shell.
The two women over the years have received serious stick from critics over the white washing that took place in both films.
I PERSONALLY ACCEPT EMMA STONE'S OFF CAMERA SCREAMED APOLOGY.

— Joel Kim Booster (@ihatejoelkim) January 7, 2019
Emma addressed the issue back in 2015, saying: "I've learned on a macro level about the insane history of whitewashing in Hollywood and how prevalent the problem truly is."
"It's ignited a conversation that's very important," she added to the Australian news station, New.com.au.
Most of Twitter was behind Emma's apology at the award show, commenting that they accepted it.
It may be many more years before Emma can finally leave her part in Aloha behind.