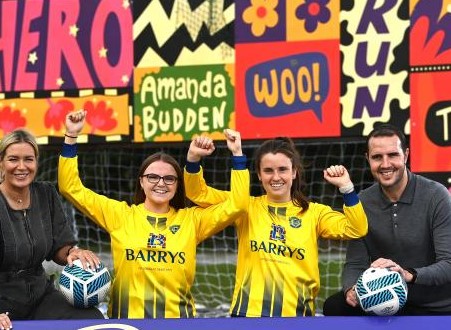 The Grounds for Change initiative is a positive development in women's football
The official launch of Cadbury Grounds for Change took place today in Douglas Hall AFC, Cork with the support of Emma Byrne, former Republic of Ireland Women's National Team captain and current Assistant Coach of the Republic of Ireland Women's National Team and John O'Shea, former Republic of Ireland International and current Assistant Coach with the Republic of Ireland Senior Men's Team. Emma and John were joined by members of the Douglas Hall AFC senior women's team and club spokesperson to showcase the new club updates and facilities.
Grounds for Change sees Cadbury Ireland support three grassroots clubs across the country with significant investment to improve each clubs' facilities and equipment. Douglas Hall in Cork is one of three clubs to unveil the extensive investment from the initiative. Other clubs that benefited are Bluebell Knockmitten United FC in Dublin and Buncrana Hearts FC in Donegal. The investment from Cadbury Grounds for Change will leave a legacy for these clubs and their community well into the future, with each club receiving investment that is being used for various items such as new dugouts, kits, pitch markings, training equipment, first aid kits, or goal posts including nets as well as a bespoke mural.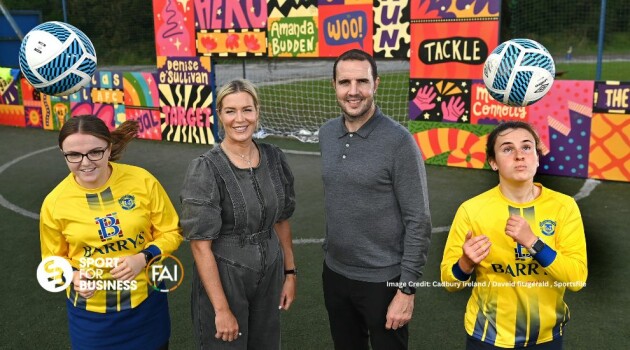 Cadbury Supporter And A Half is continuing its campaign to support women in football which was created to increase visibility of women's football and drive participation across Ireland. Cadbury has been a partner of the Republic of Ireland Women's National Football team since 2021, with an aim of encouraging more women to play football and to date, has directly supported over 50 grassroots clubs.
Speaking about today's launch, Eileen Leahy, Brand Manager Chocolate, Mondelez Ireland, said: "Cadbury is a brand synonymous with generosity, and Cadbury Supporter And A Half carries the essence of that. Grounds for Change is the next step, and the investment will give pitches and community areas a revamp to make them accessible for everyone in the community to come together and play the game. Cadbury Grounds for Change is our way of leaving a lasting legacy and really supporting women to get involved. It is incredibly exciting to see women's football finally getting the recognition that it richly deserves. We've had a summer to remember with our Republic of Ireland's Women's National Team doing us proud in Australia, and they are an inspiration for generations of young women. Get behind our girls in green and be a supporter and a half all year round!"
Since 2021, Cadbury Ireland has supported 50 grassroots clubs with even more clubs set to benefit this year. Cadbury continues to take an active role in supporting the FAI's strategy to raise awareness and grow the women's game in Ireland through acts of generosity.
In 2022, Cadbury donated €50,000 to grassroots clubs as well as giving away unforgettable experiences including a coaching masterclass with coach Vera Pauw, a meet and greet with Ireland captain Katie McCabe and the chance to attend a WNT training session.
Earlier this year, Cadbury Supporter And A Half campaign launched FAI Cadbury Kick Fit. A fun and non-competitive social programme for women, the new initiative aims to raise awareness and encourage participation in senior women's football. FAI Cadbury Kick Fit is running in locations across the country for eight weeks with more than 20 grassroots clubs taking part with over 600 women.
For more information on Cadbury Supporter & A Half, see cadbury.ie/womens-football.
---
Photos by David Fitzgerald/Sportsfile