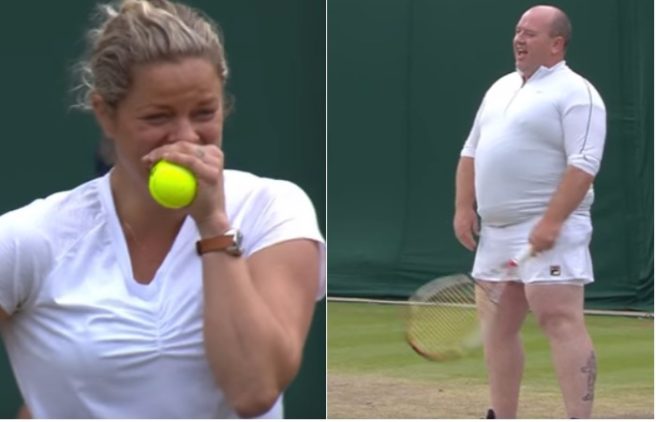 Tennis fan invited on court after shouting advice at female players
We can all agree that Wimbledon is one if the last places you'd expect to find boisterous spectators – but alas, there's always one.
In what proved to be one of the competitions most hilarious moments yet, one fan by the name of Chris Quinn got what was coming to him after he shouted advice from the stands to four-time Grand Slam winner, Kim Cjisters.
However, rather that let this man throw her off her game, she decided to invite him onto the court so he could show the world his skills.
In an effort to set the scene, Kim even offered Chris her spare white skirt, which he somehow managed to sqeeze into as the crowds and commentators looked on with bemusement.
Perhaps even more remarkably, he actually managed to return her serve.
Unfortunately his second shot was not as successful, proving he was all talk and no walk.
Chris got a quick photo with the players before returning to his seat and letting the match recommence.
Well its not everyday I get to share Wimbledon headlines with roger federer. I'll take it!!

— chris (@chrisquinnirl) July 15, 2017
It's not something you'll see at every Wimbledon, that's for sure.
One commentator said "this is so so much against the rules," but hey, it was all in good fun!