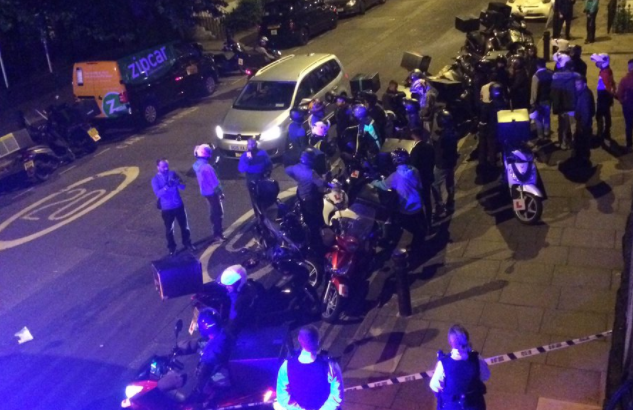 Teen arrested following five acid attacks in 90 minutes in London
The Metropolitan police are investigating a series of acid attacks that took place in less than 90 minutes in east London last night.
It's been reported that one of the victims suffered "life-changing" injuries during one of the attacks which were carried out by by two males on a moped.
According to police, the attacks appear to be linked and two victims also had their mopeds stolen.
Police and ambulances on Hackney/Queensbridge Road, possible acid/petrol attack. Lots of @UberEATS @Deliveroo drivers rallied round pic.twitter.com/ndAtXV9Kj8

— Sarah Cobbold (@sarah_cobbold) July 13, 2017
They also revealed that one male teenager had been arrested on suspicion of grievous bodily harm and robbery.
The assaults, which saw two suspects pull up to five people and douse them with the corrosive liquid, began at around 10:25pm when a 32-year-old moped rider was approached by the pair as he rode on the Hackney Road junction with Queensbridge Road.
The rampage continued until 11:37pm when the attackers fled after they confronted their fifth victim.
BREAKING: British police report five acid attack in east London, all being treated as linked incidents. Teen suspect in custody

— Lisa Daftari (@LisaDaftari) July 14, 2017
A witness to the Hackney Road attack said she saw the police treat the victim with water, while Sarah Cobbold, a local resident, said she went out on to her balcony after seeing flashing lights outside her flat.
Speaking to the Press Association, Sarah said: "It was just outside my flat, the victim was literally stood on my doorstep.
I'm currently with East London acid attack victim Jameel Muhktar. He thanks everyone for all the messages and letters. pic.twitter.com/MUO3sDip8B

— AssedBaig (@AssedBaig) July 13, 2017
"It was probably about 10.30pm. I saw some reports that it happened at 10.25pm so by 10.30pm there were a couple of police cars and an ambulance there … Police had cordoned off the little area around the pavement and there was just a guy standing on my doorway and they were pouring huge, five-litre bottles of water over his head.
"He was standing, he seemed to be OK. After probably about 10-15 minutes he managed to walk unaided into the ambulance."
The Met Police said in a statement: "Inquiries are ongoing and officers from Hackney CID are investigating."