Unicorns, mermaids and other mythical creatures were having a major millennial moment.
Thanks to the magical trend, a number of amazing fairytale foodstuffs were invented, from unicorn cake pops to mermaid toast, but this latest discovery takes the biscuit.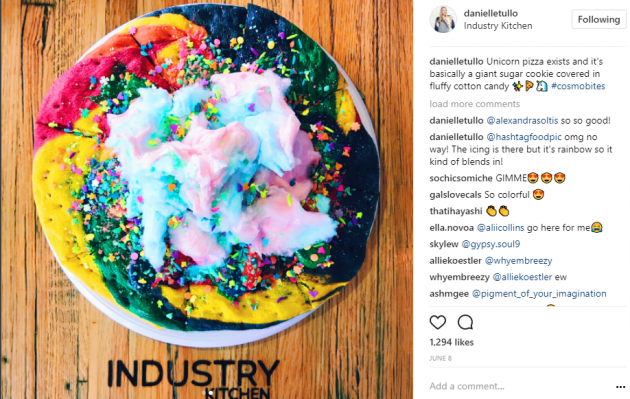 NYC eatery Industry Kitchen is responsible for this candy floss-topped rainbow sprinkled frankenfood.
The amazing pizza, known as the Pop Candy Land Pizza, is the stuff on Instagram dreams.
Rather than being a traditional savoury pizza, this sweet treat is more of a confectionary-lovers dish.
The so-called pizza eschews the traditional tomato sauce and mozzarella base in favour of sweet cream cheese sauce and popping candy.
Cosmo food editor Danielle Tullo sought out the mythical pizza, and posted some amazing snaps of it to her social media.
'It's basically a giant sugar cookie covered in fluffy cotton candy," she captioned her Instagram.
Whether for dinner or dessert, we're still dying to get ourselves a slice…