How many times have we heard the absurd phrase; "Women are from Venus, men are from Mars"? Too many times, that's for certain.
It's long been believed that men and women are simply wired differently when it comes to sexuality and arousal, due to the way our brains and hormones work.
Popular psychology posits that men are more visually oriented, responding to body in front of them or images. Women are presumed to be more emotionally driven and desiring intimate relationships.
The stereotype that women prefer their imaginations and reading erotica versus men being addicted to porn is neither true nor a healthy way to see arousal.
The image of men gorging on PornHub and Playboy while women masturbate once every five years has gone out the window for good, thank Goddess for that.
According to a new study, gender plays absolutely zero role when it comes to sexual arousal. This would make total sense, and will hopefully help us include those who are gender non-binary and LGBTQ+.
The latest reseearch from the Max Planck Institute for Biological Cybernetics (and published in Proceedings of the National Academy of Sciences journal) proves that men and women aren't different when it comes to our responses to sexy stimuli.
A meta analysis of 61 previous studies conducted by researchers delivered somewhat surprising results regarding sex and cis-gender.
Members of the research group wrote: "These results offer strong quantitative evidence that the neuronal response to visual sexual stimuli, contrary to the widely accepted view, is independent of biological sex."
AKA: We get off on the exact same things. Women are just as likely to get turned on by viewing pornographic images as men. I wonder how many (male) scientists it took to crack this code? ASK WOMEN.
Dr. Hamid Noori of the Max Planck Institute argues that while men and women may see similar brain responses to arousing video or images, they still respond in very different ways.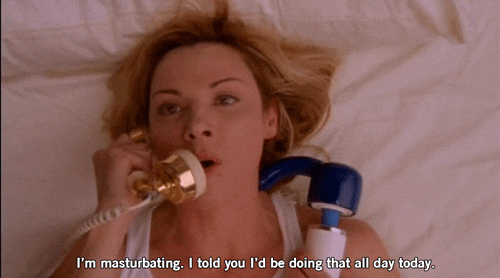 "There are differences in behaviour — the number of men going to porn sites is roughly 80 percent of the consumers," Noori said. This is obviously because most porn is AIMED at men.
"But men and women respond the same way at the brain level to visual sexual stimuli. What we do with it afterwards is what brings the difference."
One thing to note is that this study relies on meta analysis (previous research combined) rather than conducting new physical or medical tests to examine specific behaviour.
The scans are also unable to see brain activity at the most microscopic levels, so men and women can possibly show different reactions to provocative stimuli.
However, the concept of men being more turned on by images and hardcore porn while women just want 50 Shades of Grey and a secret vibrator is fairly outdated.
If they would just make porn ethical, female-friendly and LGBTQ+ inclusive then plenty of women, gay people and gender non-binary folk, would head to the sites. It's simple maths.
Studies always rely too heavily on heterosexual people, predominantly straight men, for data results. Not anymore, suckers.