Influencers have been showing off the newest accessory trend on Instagram, and we can't decided if its fierce or freaky.
Kim Kardashian recently modelled A. Human's latest body statement: a flesh coloured necklace that looks like like futuristic cosmetic surgery.
She posted photos and videos on her story, demonstrating the innovative choker that flashes yellow in the dark.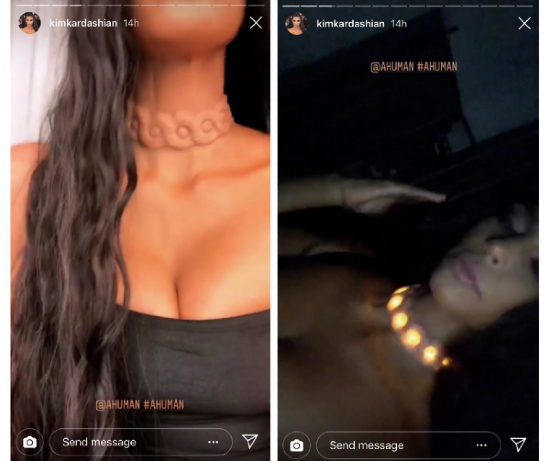 Also to join the art exhibit's creative exposition was model Chrissy Teigen, brandishing a gorgeous, feathered wingspan across her chest.
Her regal look is absolutely fab and seems so real, like her skin has been carved into some sort of flesh tattoo.
However, one of our favourite looks has to be designer Tan France's frilled ruff, named "The Tudor".
The Elizabethan collar appears to be built into Tan's neck with white crystals jutting out on one side.
The new collection is filled with these body modifications, including these devilish, blue horns that spike up from each shoulder.
A. Human prides itself in being a fashion brand from the future with the unique and forward-thinking outlook that "self-expression isn't defined by what you put on your bod, but how you change your body".
The grand opening of their flagship store will take place during New York Fashion Week starting Thursday, September 6th, and like its accessories, it will be an immersive theatrical experience.
The innovative fashion brand has also launched a biological heels series, debuting designs of built-in heels shaped like seashells in models' feet.
Are these body mods the fashion of the future? People have mixed feelings about the collection's accessories.
One commenter dubbed Tan's collar: "Mutant meets Fashion. I love it." However, others find the unique look too "creepy" for them to get behind.
What do you think?