Getting ready for a big night out can often be the best part of the entire night.
Getting the girls around for 'a few' pre-drinks while everyone primps and preens themselves over a glass of gin & tonic is where the goss is divulged, and sometimes leaving the house for the club gets pushed back later and later thanks to the catch ups
I'm usually a no fuss, no frills kind of girl, and if my hair gets brushed before hitting the bar, I consider myself made up.
Dry & Fly Blow Dry Beauty Bar, nestled on the second floor above L'Occitane on Wicklow Street, is designed with the sole purpose of bringing women together for some quality time, all while getting pampered ahead of a night out.
I went along to see exactly what pre drinks pampering was all about, and to get a sneak peek of what is destined to be one of Dublin's buzziest salons.
The city centre space is, for want of a better term, Instagram-worthy, with a modern but feminine aesthetic, assisted by the paint washed exposed brick, pink neon signs and copper accents.
Steven, the giant dog statue, who looks like a piece of art, is actually a speaker imported from France for the sole purpose of bringing the ultimate ladies night playlist to Dry & Fly's clients, adds to the ambience.
The blow drying stations are positioned specifically so that groups of gal pals can get their hair and nails done as a group ahead of an event, and the salon offers each client a glass of Glendalough gin and tonic garnished with blood orange and rosemary (delish) or a glass of Prosecco to get the party started.
The beauty bar even boasts a DJ booth, where local DJs spin tracks on Friday and Saturday nights while clients enjoy their luxurious blowdries.
Andrew O'Neill, one of the founders and visionaries behind the salon, sought to create a cool, collective experience for women to go straight from the salon to their destination, freshly made up and ready to take the town.
Big, bouncy blow outs are the aim of the creative stylists at Dry & Fly, and and their look book features all the classics, from the sleek and straight glossy blow out to Hollywood waves.
For those feeling a little more experimental, the salon stylists are also well versed in festival braids, dramatic pony tails and up-dos.
The salon deal exclusively with Kevin Murphy hair products, a staple in the beauty arsenals of both beauty bloggers and professional hair stylists across the country.
Gin in hand and after a quick flick through the salon's look book, I settled on the Ty Twist blow dry, a beachy, bouncy look that gave life to my long and admittedly lifeless locks.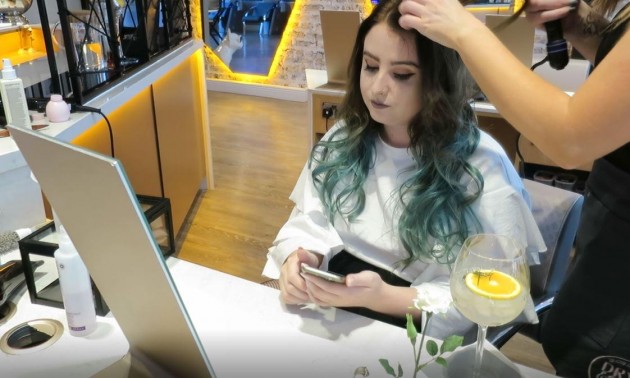 I opted for the full experience, getting my hair washed in one of the salon's comfy basins, with a full view of the painted letters on the ceiling, which read 'relax, you're not cheating on your hairdresser.'
You can also come in with your hair washed and just go straight for a dry blow out.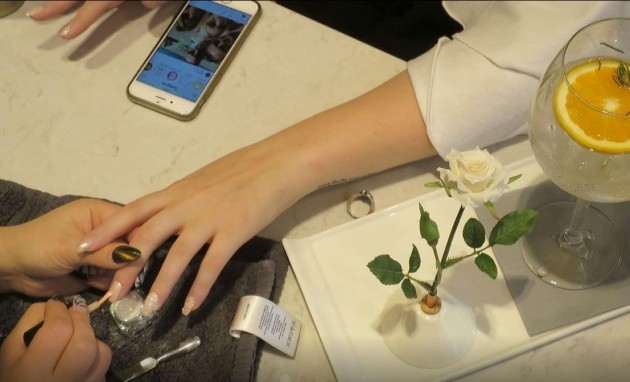 I sat down in one of the socially set-out chairs to have my hair and nails done simultaneously, feeling like I was one pink silk robe away from a backstage Victoria's Secret moment.
The salon seats, laid out so that friends can face each other and chat, were ideal for receiving both treatments at once.
Having two stylists working on my hair and nails seemed like the ultimate pinnacle of having notions, but hey, who doesn't want to feel like they're working with a Kardahian-esque glam squad at least once in their lives?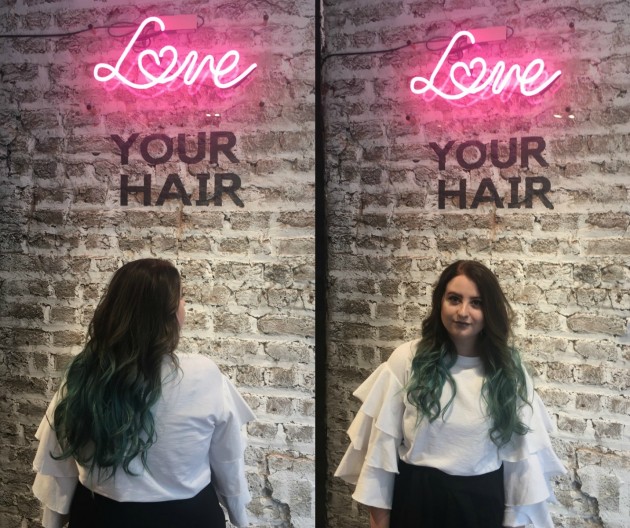 The salon is open until 10pm on Friday and Saturday for those pre-night out blow dry sessions, and from 7am to 7pm through the rest of the week.
Check it out for yourself at www.dryandfly.com.