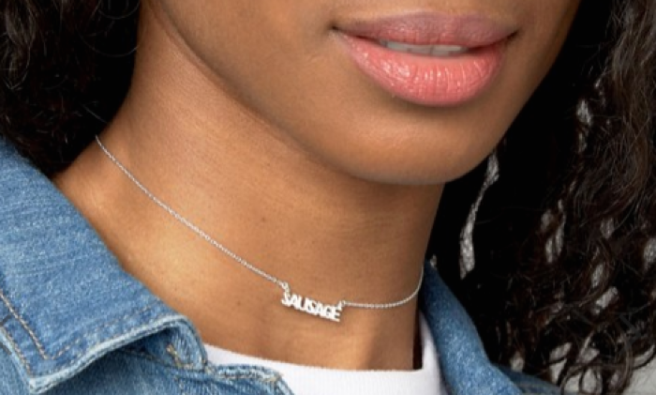 There is not better way to wake up on a Sunday morning than to the mouthwatering scent of a few rashers and sausages sizzling on the pan downstairs.
However, we're not sure we're committed enough to our full Irish to wear a tribute to it around our necks.
ASOS has created a piece that does just that.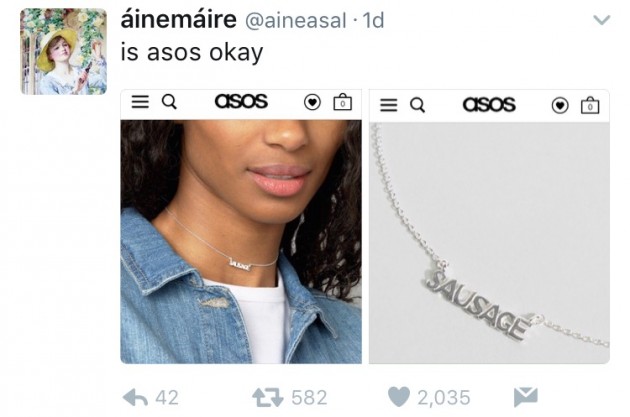 The online fashion giant has been amusing Twitter users with its latest choker offering.
The sterling silver chain, which is going for €20.00, simply says the word "sausage."
The product description gives no explanation for the extremely random term, so we can only assume that it must be for the bratwurst and black pudding lovers out there, to pay homage to their favourite, protein-rich food.
What else could it be referring to, right?
ASOS sausage choker, €20.00
This could very well be the most confusing fashion item in ASOS history.
Or even general history, come to think of it.
It's right up there with the Topshop knee window jeans and Mulberry's duvet dress.
Oh, and while we have you; don't forget to have your say in the inaugural SHEmazing Awards this May! It's time to vote, and you can do it right here!