Stormi's 1st makeup line is here – and it might be Kylie's best work yet
Kylie Jenner kept us all in the dark during the final few months of her pregnancy – surprising everyone with her Instagram announcement of her first child Stormi.
Although Kylie shared much of what she got up to during the pregnancy in a YouTube video about the past nine months, one area it didn't cover was Kylie's work life on Kylie Cosmetics.
The KUWTK star decided to work on a very specific collection project during her pregnancy – one completely dedicated to her baby daughter.
Dubbed the Weather Collection, the entire line is inspired by Stormi and her unique metrological name.
Before Kylie's leave of absence on social media, there was much discussion in the online beauty community that Kylie's makeup brand had somewhat lost it's edge in the industry thanks to the triumphs of other innovative brands like Fenty Beauty and Jeffrey Star Cosmetics.
However, the electrifying Weather Collection Kylie has just presented on social media is all the evidence we need to show that the makeup mogul is still on top of her game.
Kylie's makeup line has always been one which gives customers and followers of celeb and influencer makeup trends exactly what they want – in 2016 that was a mauve lip kit, in 2017 it was a berry eye shadow palette, and now in 2018 it's a high shine, amped up, unapologetic collection covering everything from matte lipsticks to glitter eye shadows.
While KKW Beauty is all about keeping things natural, glowy and always nude, the Weather Collection is a literal breath of fresh air and a zing of energy amongst a beauty landscape of tired neutrals.
Let's break down the collection product by product so you get the gist of what I mean.
First up, lets discuss the packaging,. It focuses on contrasting shades of black and electric yellow with splashes of holographic lettering and graphic print cases.
The makeup casings come in clashing colours like iridescent navy, grey and hologram, and the entire effect gives off very Urban Decay Vice palette meets niche, independent Etsy makeup brand vibes.
The 'I' in Kylie has been replaced with a lightning bolt throughout the collection.
There are no lip kits in the collection, instead we have three new formula matte lipsticks.
The first shade is a throwback to vintage 2014 Kylie, with blue tipped hair, 'over lined' lips and flannel shirts tied around her waist.
It's a matte black called Nightfall, and seems to be the more mature development of one of her early lip kits called Dead of Knight – a product that was dogged with bad reviews due to it's less than perfect formula.
However, Nightfall is described as being a 'traditional' matte lipstick with an opaque finish – exactly what the customers clamoured for after in their feedback for Dead of Knight.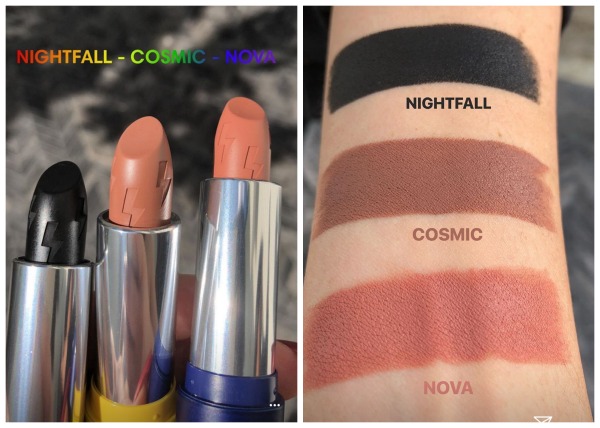 While I did complain earlier about the saturation of nude, neutral makeup on the market earlier, I'll allow Kylie to get away with the next two colours and call them a balancing act for Nightfalll.
The two other matte classic lipsticks in the trio are a deep nude and a light nude, nicknamed Cosmic and Nova (interestingly enough, Nova was one name that Kylie blogs predicted she might call her baby, so perhaps it was a contender after all).
While these lippies are pretty, they're the least interesting aspects of the new collection.
Staying with lip products, Kylie has also created a high shine, early 00s lip gloss that 2006 Paris Hilton would buy in bulk.
The Flash Glitter Gloss glimmers holographically, amd I'm thinking it would look pretty good as a lipstick topper over any shade of lipstick, or as a statement, stand alone gloss.
The collection wouldn't be complete without a few highlighting products, and Kylie's cult loose highlighting powder line is getting a new addition in the form of the Lightning Bolt Ultra Glow.
The highlight threatens to outshine the already existing highlighters with its eccentric yellow and gold undertones, combined with silver flecks.
Never one to do things b y halves, Kylie is also using the Weather Collection to introduce a new Wet Set pressed powder highlighting palette, with four warm highlighter pans.
This is where the most attentive packaging detail comes in – the palette exterior is designed with a cloud graphic print, and a select few of the stormiest looking clouds are – wait for it – fluffy.
'I worked on this pretty much throughout my entire pregnancy,' she said on Instagram Stories.
'I spent a lot of time on this collection and I put a lot of detail into it.'
While Kylie's previous eyeshadow palettes have been in response to makeup trends, be they online ones or those started by the mum-of-one herself, Kylie's latest two are a step away from the now typical nude, brown and warm-toned palettes we see on every beauty guru in the land.
The Calm Before The Storm Palette contains a variety of pairs of matte and shimmer shades, in a selection of colours from lavender to mustard to peach.
The colours are strong and bold while staying fresh and feminine, and the name fits perfectly into the weather theme, as well as being reminiscent of the typical description of pregnancy being 'the calm' before the arrival of a newborn.
The Eye of The Storm palette, however, is where things get interesting.
This palette is a strong, bold combination of deep navy shimmers, striking canary yellows, icy silvers and jet blacks mixed in with base nudes you can build the dramatic shades on.
The colours are so deep and pigmented, we can see them being used with a wet angled brush as eyeliner.
It's not exactly the most wearable palette for everyday, but its the perfect antidote to the warm and neutral shadows that are dominating the beauty trend sphere at the moment.
Now, maybe it's just me, but the EOTS and the CBTS palettes combined are giving me serious Anastasia Beverly Hillls Prism and Subculture Eyeshadow Palette vibes.
The ABH Subculture was a hotly anticipated palette released a few months ago – but with slightly disastrous results.
Customers and beauty gurus alike complained that the shades were beautiful but crumbly AF- the fall out close-up shots from the palette were pretty shocking.
Now, the brand has since rectified the consistency issue, but perhaps Kylie spotted an opportunity to create sough after shades in the right texture? Just a conspiracy theory, but the colourway is quite similar.
The Prism Palette, Subculture Palette and the Eye of the Storm and the calm Before the Storm combined both have soft peaches, nudes, lavenders, strong yellows, glitter greens and jet matte blacks.
While the colourway similarities are probably a coincidence, or a response to customer demand, it's worth noting that with the go-ahead from both Kylie Cosmetics and ABH, neon yellow eyes may be about to take over from berry-toned smoky shadows.
Keeping with the eyeshadow theme, Stormi also inspired her Mum to develop four new glitter creme eyeshadow shades.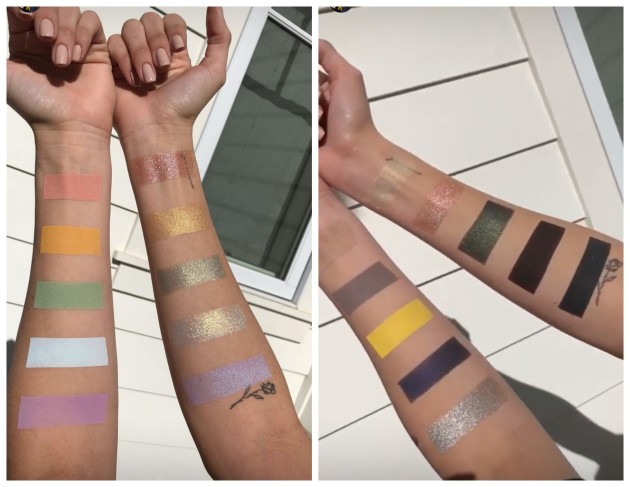 The Glitter Eyes Eyeshadow Duos are getting serious hype over on the Kylie Cosmetics Instagram.
The packaging is complete ed with little lightning bolt motifs – and the duos compliment the rest of the collection perfectly.
Destiny and Violet Moon, a combo of brown and blue, are ideal for a night out look, while Twinkle Twinkle and Superstar could be used as highlighters as well as eye shadows.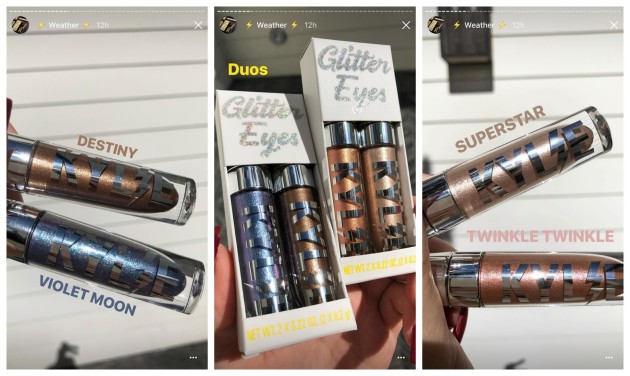 Overall, the collection is to Kylie what a sexy nude Instagram picture is to Kim – a declaration that she is back, better than ever and still more than on top of her game when it comes to hyping and selling out a makeup collection in seconds, new industry competition be damned.
The collection drops on February 28, and we can only predict that much like her early launches, the Weather Collection will sell out in seconds.
Welcome back, King Ky.