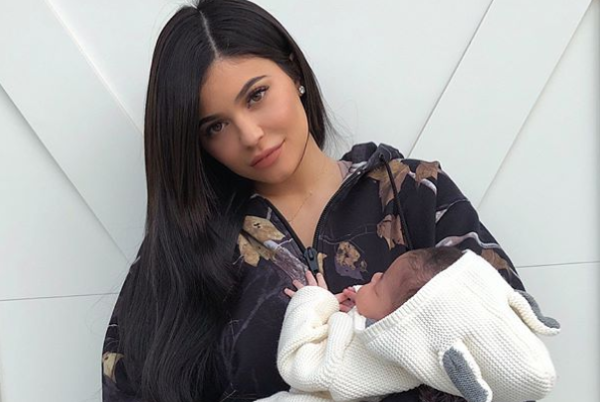 'She's totally your twin': Stormi looks just like Kylie in new photo
Proud parents Kylie Jenner and Travis Scott have shared THE cutest photo of their baby girl Stormi.
Taking to Instagram, the proud dad posted a close-up shot of his baby girl.
He wrote, "Our little rager!" alongside the photo of their gorgeous daughter.
We couldn't help but notice that Stormi is the absolute spitting image of Kylie. The resemblance between the pair is uncanny.
Fans quickly noticed the closeness in the pairs looks, and couldn't help but tweet about it.
One Twitter user posted a photo of Kylie as a baby alongside the photo of Stormi.
why does stormi look more like kylie than kylie did lol pic.twitter.com/rlWqS2fPxU

— cc (@kyjennerworld) March 3, 2018
She wrote, "Why does Stormi look more like Kylie than Kylie did lol." The tweet has accumulated over 38,000 likes so it's safe to say that many people agree that Stormi is the spitting image of her mum.
Kylie has been sharing many updates about her baby girl since she welcomed her into the world on February 1.
lol my girl https://t.co/H9Sj6viPzI

— Kylie Jenner (@KylieJenner) March 3, 2018
She recently posted two photos to mark one month since she gave birth to her darling daughter.
Kylie wrote, "My angel baby is 1 month old today," alongside photos where the new mum is cradling her adorable girl.
Fans couldn't help but gush about the adorable mother-daughter duo, "She's so adorable and precious. You must be the happiest mommy in the world!"
Another added, "She's so beautiful and cute. Kylie she looks like you."
"She is absolutely beautiful and she's totally your twin!!! Congratulations on your baby girl!" said one fan.
We're loving the updates, Kylie – keep them coming!