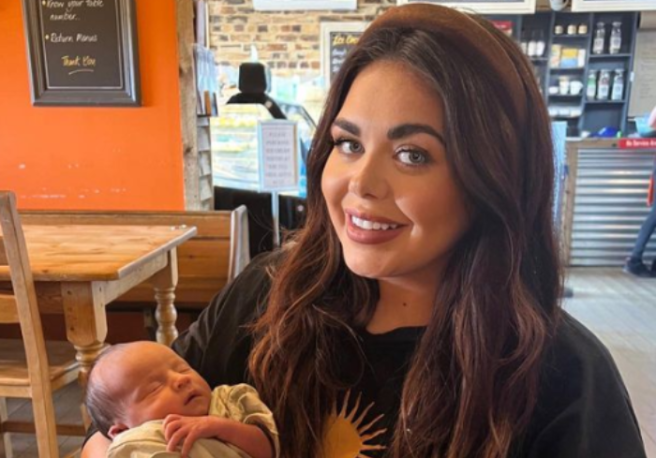 Scarlett Moffatt opens up about appreciating her postpartum body
Scarlett Moffatt has been opening up about her appreciation for her postpartum body.
The former Gogglebox star welcomed the birth of her first child, a baby boy named Jude, with her partner Scott Dobinson back in June.
As she settles into life as a mum-of-one, Scarlett has shared an inspirational message about how much she loves her body after welcoming her son into the world.
Admitting that she wishes she appreciated her body more before she was pregnant, the 32-year-old spoke to Giovanna Fletcher on her Happy Mum Happy Baby podcast.
Scarlett revealed, "I literally see my body as a different entity now, like even now, honestly, because a lot of my friends were saying, you know, it can feel quite hard after you've had a baby because your body changes so much".
"And I think listening to your podcast and watching a lot of sort of motivational women talking about sort of bodies after you've given birth".
The former I'm a Celebrity… Get Me Out of Here winner went on to explain, "I've got a lot of stretch marks on my tummy. Honestly, I actually love them. I never thought I'd say that. Like I look at them and I just think it sort of looks like the inside of a tree".
"Yeah, I feel like Mother Nature, like, this is so amazing. And before, even sometimes, like out of the bath I'd run past the mirror if I was getting out the bath and I'd be like, 'Uh'".
"Whereas now I feel like I look at my body naked a lot more than I ever looked at it before".
Scarlett then added, "It's just so amazing and I wish, actually I'd appreciated my body a lot more before I was pregnant".
Many listeners of the podcast shared their delight at hearing Scarlett's positive comments during her chat with Giovanna in the comments of the Happy Mum Happy Baby's Instagram.
One fan wrote, "This was a great podcast. Such a happy positive person".
"What a beautiful way to describe your stretch marks @scarlettmoffatt huge congratulations on your beautiful son and welcome to motherhood", penned a second listener.
Another fan added, "So well said both of you".
After welcoming baby Jude into the world, Scarlett penned a heartfelt tribute for her son that reads, "My darling boy I can't stop crying looking at you as I can't quite believe you're mine. You wanted to meet us early at just 35 weeks".
"Me & your daddy love you so much that I can't even put this feeling into words. Our heart and soul feels complete & ready to burst. I will forever and always be grateful to be your mammy".