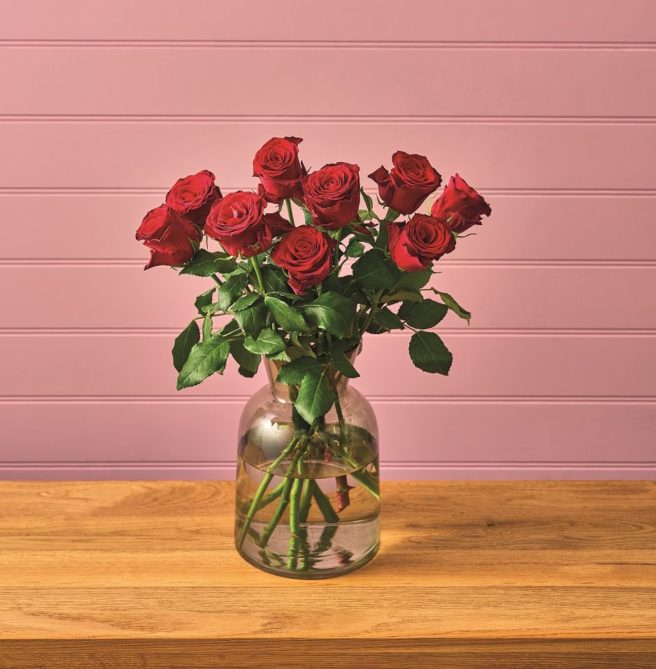 Savvy shoppers can bag a bargain this Valentine's at Lidl
In the lead up to Valentine's, Lidl stores nationwide will have a wide variety of low-priced, high-quality Valentine's gifts as part of their Go Full Lidl this Valentine's Day range. Whether you are looking for a beautiful bouquet of flowers, sensational designer-inspired scents, the perfect heart embellished present or preparing a home cooked meal, Lidl is your one stop shop with a variety of affordable gifts that won't break the bank.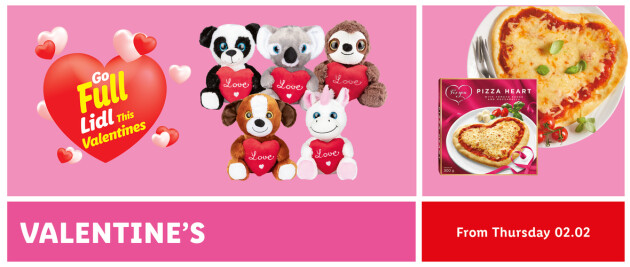 DON'T PLAY 'HEART' TO GET THIS VALENTINES
From today February 2nd, Lidl stores nationwide will have a selection of Valentines paraphernalia to celebrate the most romantic day of the year, embellished in hearts or scrolled with confessions of love. Customers can pick up Valentine's inspired Esmara Ladies Socks for just €3.99 (available in size 3-8), Esmara Ladies Slip on Slippers available in sizes 3.5-7.5 for only €5.99. 100% cotton Esmara Ladies Pyjamas Set and a cheeky pair of Livergy Men's Boxers (€6.99) featuring red hearts.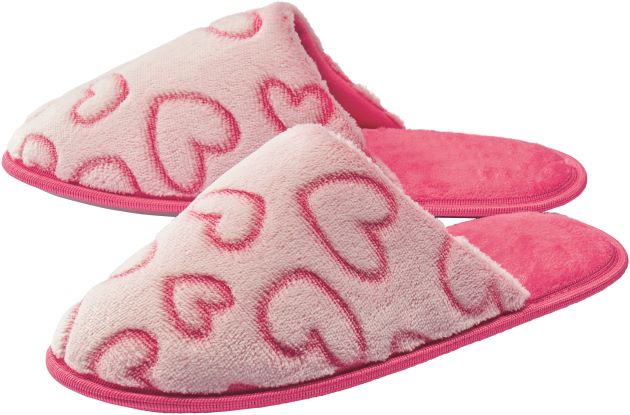 Cosy up in front of the TV this Valentine's with your loved one under a Livarno Ultra Soft Underside Blanket for just €11.99.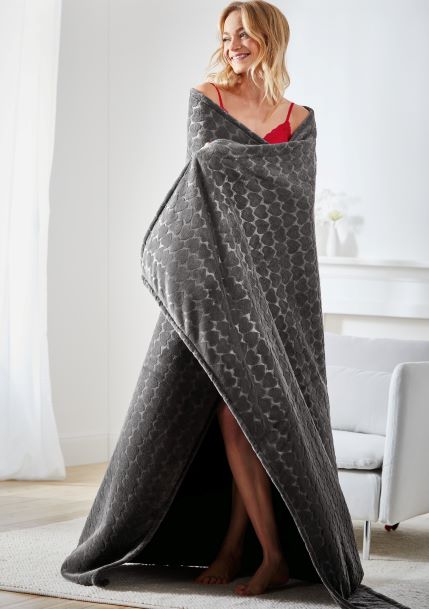 For the fashionista in your life, spoil them with an Auriol Silver or Gold Women's Watch and Jewellery Set for just €9.99.
There will be a cute selection of Soft Toys embracing a love heart – choose between a precious Panda, kissable Koala, sweet Sloth, delightful Dog or utterly gorgeous Unicorn for only €3.99.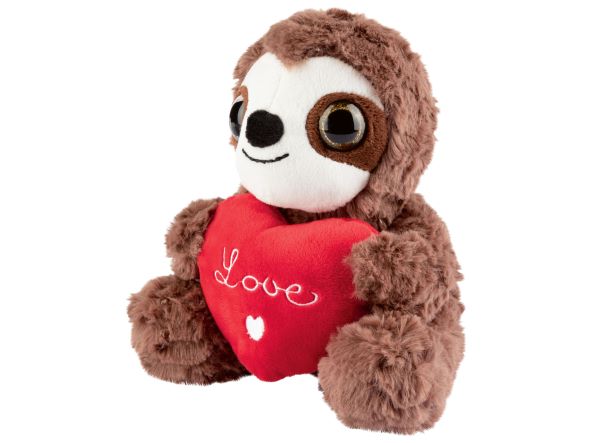 YOU'RE A PIZZA MY HEART
Lidl stores will have a range of 'For You' edible treats ideal for that romantic evening at home. Looking for a quick and easy solution to feeding your loved one, pick up Lidl's 'For You' Heart Shaped Pizza for only €1.99.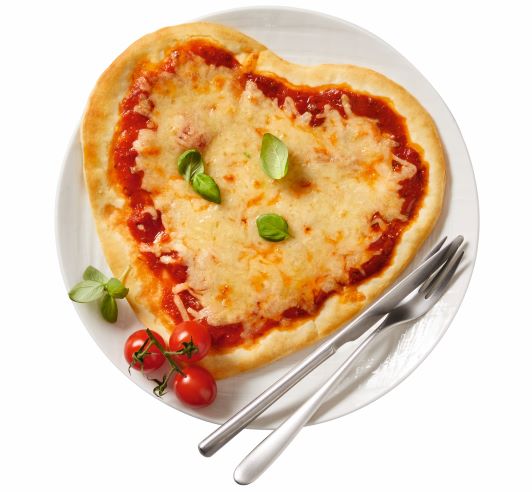 Bring a little bit of Italy to your dinner table with Lidl's 'For You' Heart Shaped Pasta, only €2.49. And wrap up a home cooked meal with Lidl's Heart Shaped Blueberry Mochis, only €4.99. Start the morning off the right way by spoiling your loved one to breakfast in bed. Lidl stores will have a Heart Shaped Pancake Frying Pan for €14.99, perfect for creating a delicious stack of heart shaped pancakes and why not add a saucy topping of choice or a side portion of Lidl's Heart Shaped Tub of Strawberries for just €2.99.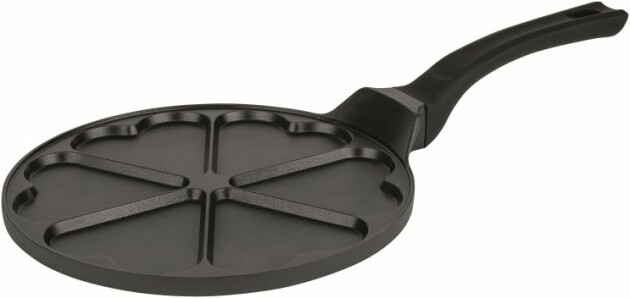 YOU'RE MY BEST BUD
Noting says 'I love you once and flor-al' more than a fresh bunch of flowers. Savvy shoppers this Valentines can pick up a single red rose or choose between a selection of spectacular bouquets bursting with colour across Lidl stores nationwide from Friday 10th February 2023, all at a fraction of the cost of traditional florists.
Sticking to a budget, select between the classic Single Red Rose for €1.99 or a Deluxe Single Red Rose €3.99, a bunch of Valentine's Tulips €5.99, and for the Valentine who likes to keep it traditional, pick up a bunch of Large Headed Roses for just €11.99!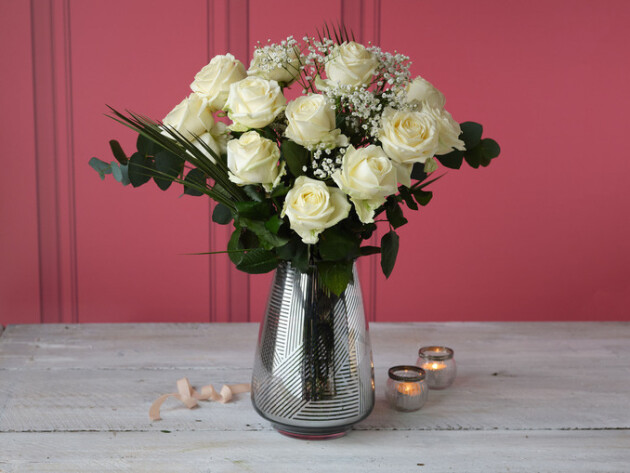 Splashing out, shoppers can pick up the Exclusive Rose Bouquet at just €29.99, this bouquet captivates the perfect bunch for the classic romantics, made of a stunning array of red, white or blended red & white roses. Exclusive to Lidl, the bouquets are wrapped in romantic quotes from famous Irish Poets. The Romance Bouquet is a colourful array of roses for just €21.99. All of Me is pretty bunch of roses packaged beautifully in a colourful bag with a soft toy €21.99, for those wanting to splash out on a large bouquet Lidl's Luxury Lilies will be just €36.99 or the Valentine's Spectacular Bouquet at €44.99.
MEAL DEALS
From Saturday 11th February Lidl stores will have some great instore savings. If you're planning on hosting a romantic home cooked meal these tasty treats might give some inspiration for creating the perfect dinner at home. Dish up a succulent, tender steak using our Great Taste award winning Deluxe Dry Aged Angus Striploin 35 Day Steaks (2pk) for €11.19, Deluxe Irish Angus Fillet Steaks (2pk) for €10.99 or Deluxe Irish Angus Striploin 32 Day Steaks (2pk) for just €7.99.
To wet the pallet, pick up Lidl's gorgeously between the Chianti Riserva DOCG will be €7.99. There will also be a number of offers available on the Lidl Plus app.
YOU'RE SUD-SATIONAL
Another ideal gift to pick up at Lidl is the designer-inspired scented range The Luxury Collection hand washes [€2.49], hand lotions, candles [€4.29] and diffusers [€4.99]. Starting at just €2.49, the scented selfcare lotions and matching reed candles and diffusers are available in a variety of aromas including Lavender, Citrus and Herb, Pomegranate, Spice Vanilla and Patchouli, Burnt Amber and Coffee, and Plum and Rosewood. All Luxury Collection scents are available in candles and matching diffusers giftsets meaning you can pick up the full set of your favourite fragrance for less than €10 with 1,400 hours of scented bliss guaranteed.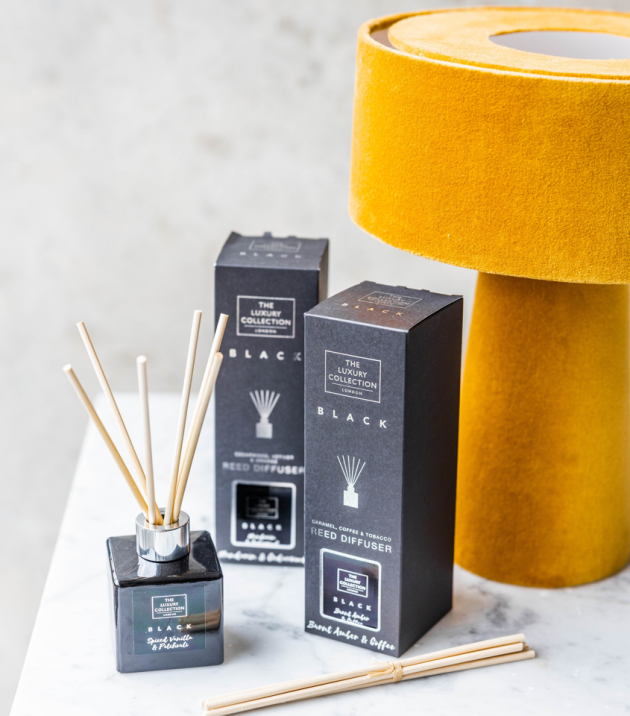 SENSATIONAL SCENTS
Nothing says I love you more than the gift of a sensational scent. Lidl stores have an amazing selection of designer inspired fragrances for just €5.49. Boasting excellent staying power that customers have compared to big brands, Lidl's fragrances are the ideal gift for frugal shoppers this valentine.
For him, choose between Lidl's own brand G.Bellini's range of men's fragrances. X-BOLT, a fruity, fresh and charming classic (compared to Hugo Boss), ONE FRAGRANCE, is captivating, spicy and masculine floral scent (compared to Paco Rabanne 1 million), HOMME, is an exotic and adventurous scent collaborating a blend of oriental, smoky, wood (compared to Dior), DEEP is a woody, aromatic, sensual and timeless scent (compared to Bleu CHANEL).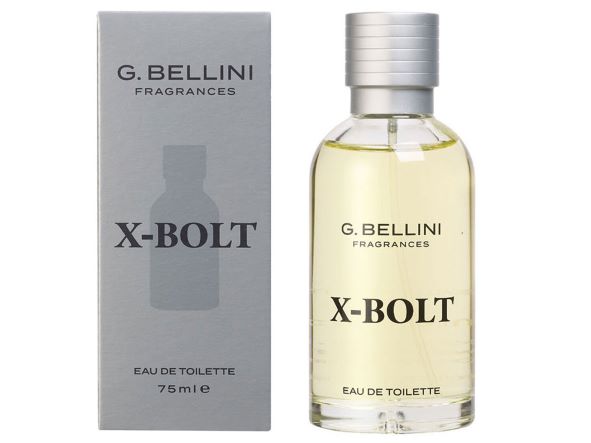 For her, Lidl's Suddenly range of fragrances include MADAME GLAMOUR a fresh citrus, white floral, sweet and aromatic scent (compared to Chanel Coco Mademoiselle), LOVELY, a fresh, floral and feminine aroma (compared to Dior J'adore), FEMELLE, a flowery, fresh, powdery and radiant scent (compared to Lancôme Le Vie Este Belle).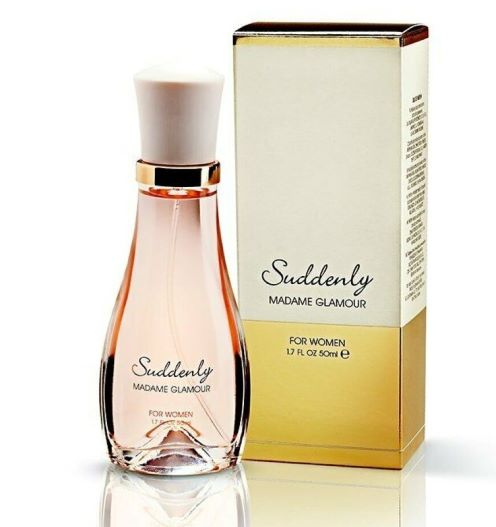 The Go Full Lidl this Valentine's Day range which will be available in stores from Tuesday 2nd February with more lines added throughout the lead up to Valentines. For more information and to view the latest instore offers please visit www.Lidl.ie.