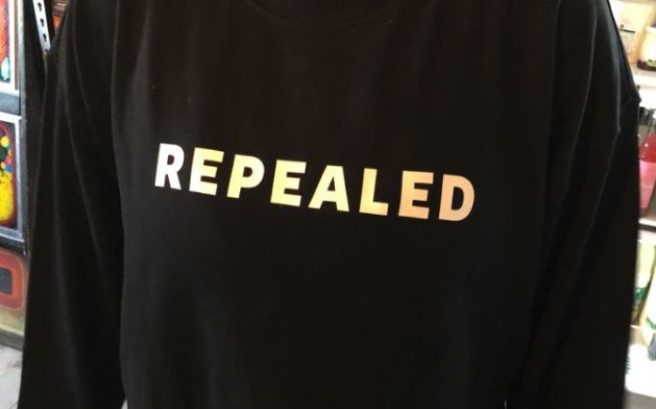 #Repealed: The most heartwarming reactions to the referendum result
On Friday, we took to the polling stations after months of canvassing, discussing and marching.
The Irish people voted to repeal the 8th amendment to the constitution, in a landslide victory.
It was, of course, an emotional weekend for many – as Ireland moves forward into a brighter and more compassionate future.
Twitter has been awash with kind words, uplifting messages and stories that would warm even the coldest of hearts.
Here are some of our favourite responses to the decision to repeal the 8th amendment (finally!)
"It was women who ran the Yes campaign, women who gave it animated purpose & women who, through their medical and legal expertise & their powerful personal stories, persuaded us to face up to a reality that could no longer be avoided" #repealedthe8th https://t.co/2YQ6gZeC8Y

— Roisin Ingle (@roisiningle) May 27, 2018
The two ladies from that legendary photo out celebrating tonight at long last. #repealedThe8th pic.twitter.com/baXulG5rv2

— Caolan Mc Aree (@Caolanmcaree) May 26, 2018
What a moment for democracy and women's rights. Tonight, I spoke with Taoiseach @campaignforLeo and his team and congratulated them on the Yes side's referendum victory legalizing abortion in Ireland. #repealedthe8th

— Justin Trudeau (@JustinTrudeau) May 27, 2018
We won. We've repealed the 8th. All of our marches. Al of our stories. All of our experiences. All of our tears. All of our knocks on doors. We did it, Ireland. History has been made. YES! #repealedthe8th #together4yes #8thref

— Leanne Woodfull (@LeanneWoodfull) May 26, 2018
Thank you to all the women that trusted us with their stories. Many shared, many yet to share. We are so proud of you all today.

We're going to take a little break, we'll be back to share stories soon.

Lots of love, Erin, Mary, Jac, Eimear, Joanne, Cara & Kate.#Repealedthe8th pic.twitter.com/6Xtbom1FJW

— In Her Shoes (@InHerIrishShoes) May 27, 2018
My feet are swollen.
My knees are aching.
My skin is sunburnt.
My head is banging.

And today my body is mine.#RepealedThe8th

— Steph, a flower of the mountain YES (@Stephanenny) May 27, 2018
Well, then. #RepealedThe8th pic.twitter.com/Frgj2TYqOk

— Oonagh (@Okeating) May 26, 2018
Where to start about yesterday??the emotional rollercoaster has been immense but not as immense as the unbelievable people I've been surrounded by whilst campaigning! #repealEDthe8th ##IsaidYES pic.twitter.com/40S8owPMBn

— Anne-Marie McNally (@amomcnally) May 27, 2018
66.4% SAY YES! #RepealedThe8th pic.twitter.com/DYwr62v8YZ

— James Kavanagh (@JamesKavanagh_) May 26, 2018
If you see an Irish woman today , give her a pizza, she is hungover #RepealedThe8th

— Nicola Coughlan (@nicolacoughlan) May 27, 2018