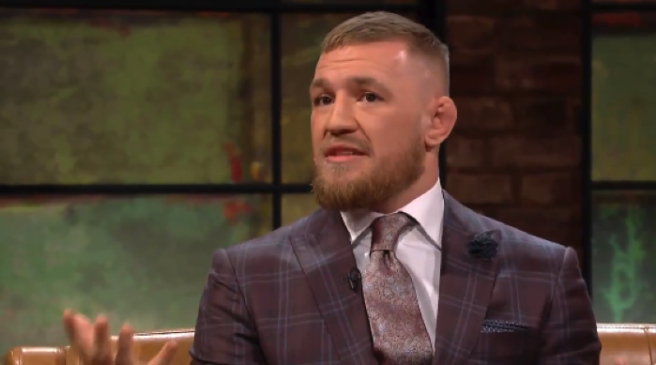 People aren't convinced by Conor McGregor's lackluster apology
Conor McGregor has apologised for using a homophobic slur in a recent viral video, insisting he mean no "disrespect" to the LGBT community.
In a pre-recorded interview due to be aired on The Late Late Show this Friday, the MMA star tells Ryan Tubridy that he is sorry for saying the word "f****t" and would like to try "move on from it."
"I have to put my hands up there. I was whispering in his ear and I was speaking on that and I said what I said. I meant no disrespect to nobody of the LGBT community. I didn't mean no disrespect."
"I meant no disrespect…" @TheNotoriousMMA apologises for using the word f****t recently, watch McGregor on the #LateLate this Friday! pic.twitter.com/bIH66stdOC

— The Late Late Show (@RTELateLateShow) October 31, 2017
The Crumlin native went on to say how he had campaigned for a 'Yes' vote in the 2015 marriage referendum and argued that people just want to throw him "under the bus."
"It is another one where things just get blown out and they love to just, any chance they get they love to throw me under the bus. It is what it is."
"I'll just say sorry for what I said and that's it and try to move on from it."
Understandably, many people were not satisfied by the seemingly uninspired apology, with some arguing that he didn't even realise the extent of his wrongdoing.
Conor McGregor apologised for repeatedly using the slur "Faggot".

I don't think he gets why it's so toxic. pic.twitter.com/z7IoS2AJoQ

— Aaron Vallely (@Vallmeister) October 31, 2017
"Apologises to absolutely nobody"

— TinOwl (@TinOwlJohn) November 1, 2017
Not acceptable. For a man who's never short of words.

— richard mintern (@richard_mintern) October 31, 2017
Clearly, he doesn't understand why it's an issue. Look how much of a hurry he is to be forgiven.

— (@MrKnoah) October 31, 2017
Catch the full interview on The Late Late Show on RTÉ One, this Friday,