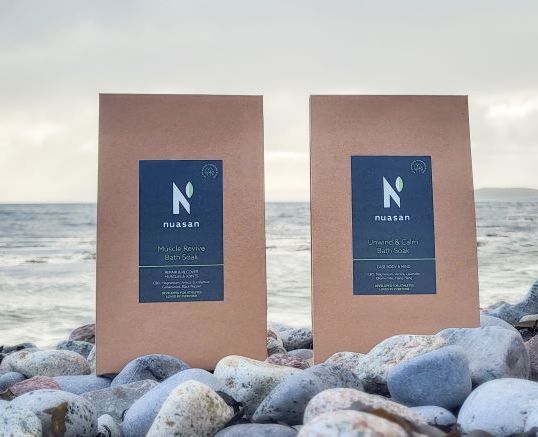 Nuasan, the Irish wellness brand, launches luxurious new Bath Soaks
Galway wellness brand, Nuasan is thrilled to announce the expansion of its product range with the introduction of two luxurious bath soaks, "Unwind & Calm" and "Muscle Revive," designed to provide ultimate relaxation and recharge. In Ireland, we rank 4th in the world for the Google search term "how to relax", demonstrating a clear demand for finding ways to unplug and unwind. Nuasan has answered the call with these innovative bath soaks that are perfect for Christmas gifting.
Nuasan, originally developed for elite athletes, has more-recently expanded its commitment to overall well-being and recovery. The brand's growing popularity is evident in its recent arrival in Boots stores nationwide with further retail partners expected to be added in 2024.
The new Bath Soak products, like the wider Nuasan range, are scientifically designed using highly functional active natural ingredients to help your mind and body recover and recharge from the daily stresses of modern life.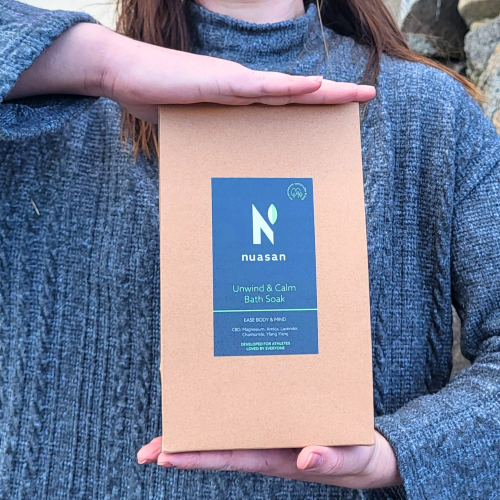 Nuasan "Unwind & Calm" Bath Soak (RRP – €24.95)
Nuasan "Unwind & Calm" Bath Soak is enriched with CBD, magnesium, arnica, and Himalayan pink salts, offering immediate and lasting relief from tension in the body and mind. It features gentle scents of lavender, chamomile, and ylang-ylang to create an oasis of calm and comfort. Ideal for winding down, promoting a good night's sleep, or simply indulging in self-care, this bath soak offers a sanctuary of serenity in the comfort of your own home.
Nuasan "Muscle Revive" Bath Soak (RRP – €24.95)
Nuasan "Muscle Revive" Bath Soak, also enriched with CBD, magnesium, arnica, and Himalayan pink salts, provides immediate and lasting release from tension in muscles and joints. The unique blend of essential oils (including black pepper, frankincense, ginger) improves circulation and reduces inflammation, while eucalyptus and peppermint rejuvenate the senses. This soak is perfect for post-workout recovery or any time its needed to revive the body and mind, making it a great gift option for the sports enthusiast in your life that deserves a treat.
Dara Scott, Founder of Nuasan, says, "Nuasan was born from the world of athletes, but it has grown into something much more profound. Our customers told us they needed respite from their hectic lives. They wanted to unwind, relax, and retreat from the daily rush – not only to physically ease tension in their bodies but to press pause on the mental gymnastics of their day to day. We developed 'Unwind & Calm' in response to those seeking support relaxing and sleeping while our 'Muscle Revive' Bath Soak was designed for our traditional customer looking for complete body recovery."
Experience the transformation of your bath into a sanctuary of recovery and well-being with Nuasan. In addition to the bath soaks, Nuasan is offering limited edition Christmas bundles, combining the brand-new bath soaks with the brand's most popular products including, it's famed Active CBE Muscle Gel and Nuasan's Active Body Moisturiser, both uniquely formulated to provide relief to sore, aching muscles.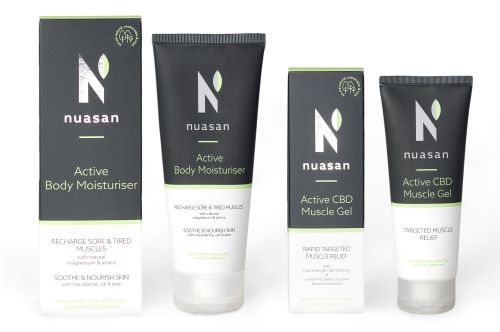 Mind & Body Restoration Bundle
Nuasan's Unwind & Calm Soak with Nuasan Active Body Moisturiser and Nuasan Active CBD Gel, €75.95. (Saving €8.90)
Recover & Repair Bundle
Nuasan's Muscle Revive Soak with Nuasan Active CBD Muscle Gel and Massage Ball, €59.95 (Saving €9.90)
Ease & Soothe Bundle
Nuasan's Unwind & Calm Bath Soak with Nuasan Active Body Moisturiser, €44.95 (Saving €4.95)
Nuasan's products are available to purchase on the Nuasan website and a select collection are now proudly available in Boots stores nationwide, alongside selected pharmacies, making it easier than ever for customers to discover the brand's innovative solutions for relaxation and recovery.
For more information about Nuasan's new limited edition luxury bath soaks and the full range of products, please visit www.nuasan.com.