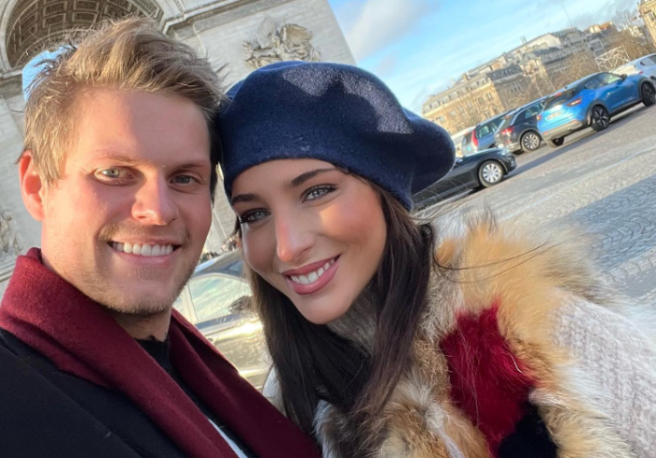 MIC's Maeva D'Ascanio & James Taylor detail 'intense' wedding
Wedding bells are ringing!
Congratulations are in order for Maeva D'Ascanio and her partner James Taylor as they have confirmed the wonderful news of their marriage.
The Made in Chelsea stars tied the knot in an intimate ceremony in London earlier this week.
Now, while speaking to Hello!, the newly-weds have shared details from their romantic day, revealing their wedding was 'intense'.
Maeva and James explained that they decided to walk down the aisle together with their 11-month old son Beau.
"We loved seeing our families being so emotional while walking down the aisle, and having Beau with us was very special".
"The ceremony was quick but very intense and beautiful", Maeva admitted.
After the private registry office ceremony, Maeva changed into a second wedding gown and the pair headed to a top hotel in London to celebrate their special day.
Maeva and James revealed that they will be holding a bigger ceremony and reception with their friends and family next month.
The second celebration will be filmed for Made in Chelsea so fans of the reality show have those scenes to look forward to.
D'Ascanio announced her and James' marriage to her 330K Instagram followers earlier today by posting a sweet photo of themselves from their wedding day.
She captioned the post, "Yes! We did it!! Now we can't wait to celebrate with all our family and friends".
The lovebirds have been an item for three years. James proposed to Maeva in April of last year while they were on a romantic holiday together in Rome.
When announcing their engagement to Hello!, the pair revealed they were also expecting their baby boy together.
Maeva said, "All my dreams are coming true at the same time. I still don't believe it. It's all amazing. I just want to enjoy it all as much as I can".