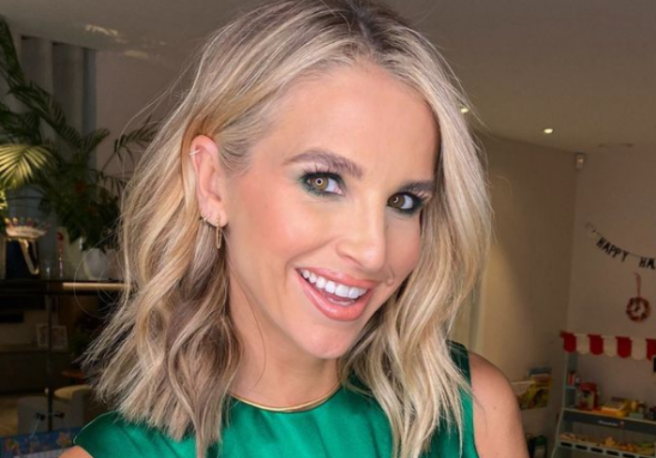 Marks & Spencer defend Vogue Williams after cruel body shaming
Marks & Spencer has defended Vogue Williams after she received cruel body shaming comments.
Earlier this week, the retailer shared a post to social media, which was recently filmed by Vogue herself.
In the video clip, the 37-year-old model showed off some of M&S's swimwear pieces while on holiday, including a black swimsuit and a blue bikini.
Vogue's video also featured her three children – Theodore (4), Gigi (3), and one-year-old Otto – with Gigi choosing to don an adorable yellow swimsuit for the occasion.
After Marks & Spencer uploaded the video, their Instagram comments section began to be flooded by critical comments, with many viewers choosing to accuse the mum-of-three of being 'too thin'.
After receiving an onslaught of comments, M&S has since taken to their own comments section to defend Vogue.
"A kind reminder to our followers that we use our platform in a positive way. We're proud to represent and celebrate people of all shapes and sizes," M&S detailed in their statement.
"We won't tolerate any unkind or negative comments and anything unacceptable will be deleted. Let's all continue to uplift one another. Love M&S x," the retailer's social media team added.
Many have since gone on to support M&S's defence, praising Vogue for her content.
"Why are women being attacked for being fit and healthy now?! Body positivity is for everyone and NOONE should be criticized whether you're a size 6 or 16," one follower exclaimed.
"She looks great. Women come in shapes and sizes and all women are 'real' and 'normal' no matter their size," another noted.
The trolling comments came after Vogue recently expressed her opinion on the rumour mill. The presenter, who is married to Made In Chelsea's Spencer Matthews, opened up on her My Therapist Ghosted Me podcast about the entertainment industry.
"Rumours, just take them with a pinch of salt because that's usually what they are: Bullsh*t. They usually come from nothing. If someone usually doesn't say something about a rumour… It's bullsh*t," she stated.