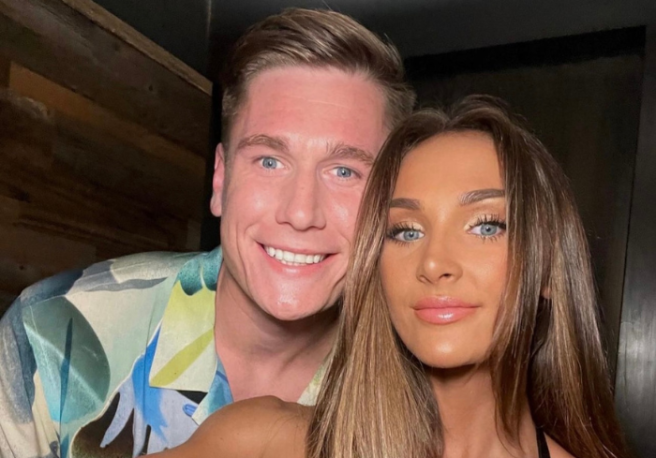 Love Island's Will Young says proposal to Jessie is 'creeping up'
Will Young is ready to get down on one knee!
The former Love Island star met his girlfriend Jessie Wynter during their time in the villa earlier this year.
As their relationship progresses, Will has revealed he plans on proposing to Jessie and that he's 'creeping up' to giving her a ring.
After surprising Wynter by getting her baby goats as their first official joint pets last week, Will is ready to pop the big question next.
Speaking to MailOnline, Young revealed, "Last week I made a romantic gesture to Jessie. I won't lie, we are creeping up to the ring. We are creeping up to it".
"First stage is the goats, give us a couple of months and then the next thing is going to come and we will keep getting stronger and moving forward".
Jessie went on to admit, "I love Will so much and I don't need a ring to know that. I know we love each other".
Explaining that Will is already trying to figure out her ring size, Jessie said, "We were sitting at dinner the other night and he takes my ring off my finger and was holding it and asked, 'Does this ring fit you well?'. I looked at him like, 'What? Why do you care about that?'. He was acting so awkward".
Will went on to add, "Not going to lie I thought Jessie hadn't clocked that. I just took the ring and was like, 'How does this fit you?'".
"It's the first time I've actually realised you clocked what I was doing. If I'm being completely honest, for me I know what I want and that's babies, marriage and living with Jessie for the rest of my life. It is going to happen".
The Love Islander then revealed, "It's completely different to any relationship I have ever had, my last serious relationship was when I was 16, so it was very immature".
"Coming out the villa I had to tell her like, 'This is my first proper relationship and I am still learning but we are growing together'".
"We have got so much love for one another and we have silly disagreements, like, 'You haven't made the bed', but we talk through it and move on".
The farmer ensured, "Get this down: Will Young loves Jessie and wants to marry her. I say this to Jessie all the time, we are going to get married and have kids".
The lovebirds then explained that they are saving to buy a house together, but have 'nothing set in stone' in terms of settling down in the UK or Jessie's home-country of Australia.
"At the minute we have been to Australia and we came back for the UK summer. The plan for us is to do six months here and six months there".
"We are both real family people and I want to spend time with my family and Jessie and she wants to spend time with hers and me, so six months here six months there".
Jessie revealed, "We are not setting plans. If we want to go to Australia, we will go. We have nothing set in stone, we are winning and I love the UK".
"We are saving for a house though, we have a joint account and I haven't had my nails done in months, we are being stingy".