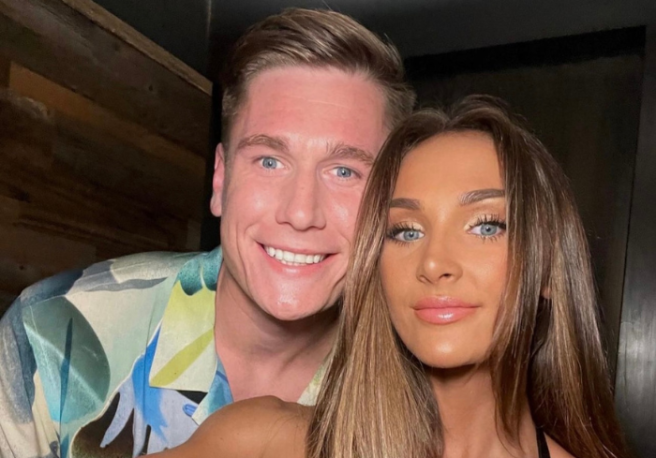 Love Island's Will and Jessie announce sweet relationship update
Will Young and Jessie Wynter have taken the next big step in their relationship!
The Love Island stars, who narrowly missed out on a place in the final of this year's winter series, have revealed that they are now pet owners.
Taking to social media this morning, the lovebirds introduced their two new baby goats to the world, as they settle in on Will's Buckinghamshire farm.
"WE GOT OUR FIRST PET!! Yes, a very unusual first pet, but I surprised Jessie with some baby goats," Will exclaimed in his Instagram caption.
The 23-year-old went on to explain his reason behind the unusual choice of animal.
"We have been speaking a lot about getting a dog, however, with me and Jessie travelling a lot to my home and her home, we didn't think the timing was right. So I thought, what's even better than a dog? Yes that's right a goat. They will live on the farm, with my other beautiful animals, the pigs, sheep and alpacas, and now there is one more animal which is part of the family," he penned.
Will then went on to detail how the sweet animals link back to Jessie's childhood in Australia.
@farmerwill_

I suprised my girlfriend with 2 baby goats today. She wanted dogs but we travel all the time so the next best thing were baby goats that can go on the farm any name ideas?
"I remember conversations I have had with Jessie and she used to have goats growing up, so I knew this would be the perfect surprise. It's safe to say she LOVES them!" he exclaimed.
At the end of his caption, the TikTok star penned a heartfelt dedication to his girlfriend.
"You don't know how much this warms my heart, that I have the most perfect girlfriend who's slotted in at the farm, and someone I can get farm animals for – perfect, perfect, perfect. My little child boy dream coming true," Will gushed, before adding teasingly: "I can't wait to keep growing our family even more."
Many of the couple's fans have since expressed their delight at the heartwarming news.
"Could this be any more wholesome," one fan replied in a comment.
"Congrats on becoming goat parents!" another added.