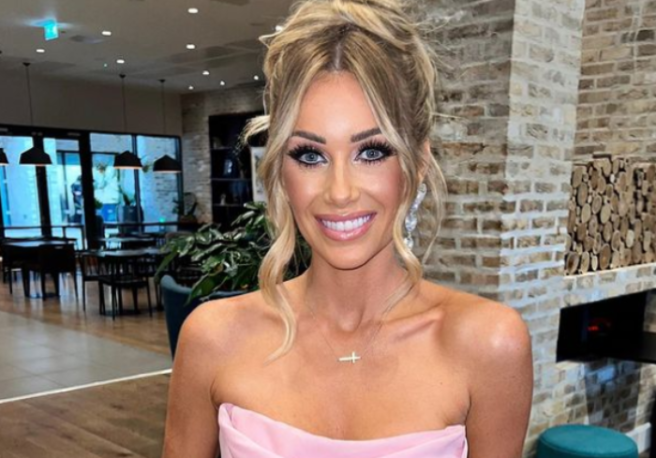 Love Island's Laura Anderson shares exciting pregnancy update
Laura Anderson has shared an exciting milestone she has reached in her pregnancy.
The former Love Island star announced she was expecting her first child with ex-boyfriend Gary Lucy in February and has been keeping fans up to date with her journey on social media.
Laura has now revealed an exciting update as she has felt her little one kick for the first time.
Posting a collection of gorgeous photos of herself cradling her blossoming baby bump to her 1.5M Instagram followers, Laura joked that she thought she had an upset stomach before she realised it was actually her baby moving for the first time that she was feeling.
Wearing a one shoulder, cut-out dress with an oversized blue shirt on top, the 33-year-old looked radiant with her curly hair done in a half up, half down style.
She captioned the post, "We have movement people. At first I thought the flutter was my funky bowel upset by my pasta intake but all night long baba was giving me the elbow".
"Love you, sh**s getting real", the former reality TV star added before sharing the post to her story and saying, "I felt baba".
Many of Laura's fans rushed to the comments to share their excitement with her for reaching this part of pregnancy.
"You look radiant Laura. Feeling baba move is just the best isn't it", wrote one follower. A second fan penned, "Aww this is so wonderful and exciting", while another said, "It's the best feeling!".
"Wow you look glowing. Pregnancy looks beautiful on you", added another of the mum-to-be's fans.
When announcing her pregnancy, Laura revealed, "My heart is full", before saying her little one is due this summer.
Anderson had not yet announced the gender of her baby, but her ex-partner Gary chose to reveal the news in an Instagram post earlier this month.
The now-deleted post read, "Daddy's Girl", and had the caption, "For everyone that's been asking… Let's hope she inherits her Mummys looks. Thanks for all the lovely messages from everyone… so excited to meet my little baby bear soon".