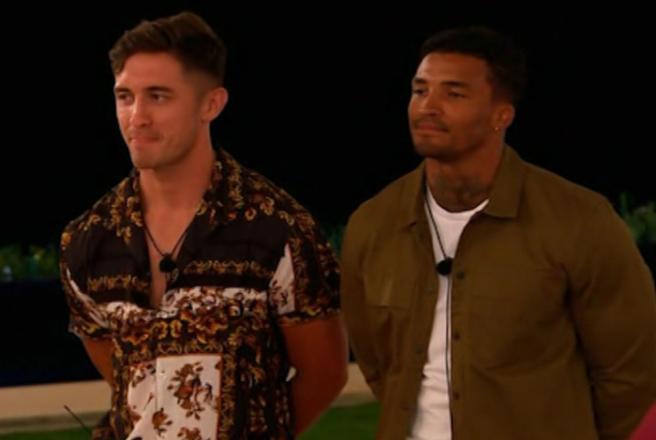 Love Island fans reckon tonight's recoupling gave away a spoiler
Tonight is set to be one of the biggest nights in Love Island history, with Geordie gal Amber Gill realising she has a major decision to make.
Will she go with her ex-flame and current villa villain, Michael Griffiths, or new charming Limerick Lad, Greg O'Shea?
We know what the obviously correct choice is, but last night's clip may have given away a major spoiler about what will go down tonight.
In a world full of Michaels pick a Greg #loveisland pic.twitter.com/DSHhb91ZnO

— Torie (@Torie_Homer) July 18, 2019
The firefighter who is now an enemy of the state after dumping Amber brutally after Casa Amor for Joanna Chimondies, and treating her like dirt afterwards, only to confess as soon as Joanna gets axed that he still has feelings for Amber.
Hmmm, how convenient? We're guessing he'd do absolutely anything to remain in the show.
The manipulative 27-year-old isn't fooling anyone, especially with his lies last night about having "found what I've been looking for" comment referring to Amber.
Michael: did you hear me say a specific person
Also Michael: #LoveIsland pic.twitter.com/Zv9yyvW3XK

— lily (@Lily_carmicael) July 18, 2019
As soon as Belle told him that Joanna wouldn't be waiting around on the outside for him, he does a 180 and heads straight over to Amber, interrupting her chat with new boy Greg.
Amid all this chaos, the islanders got a text revealing that the next recoupling was looming, and it's the girls' chance to pick the boys this time.
Viewers spotted in the teaser for tonight's episode that Amber is positioned at the fire pit announcing her choice, but Greg and Michael were the last men standing.
Did they not just spoil it by showing the last two guys? #loveisland

— (@ItsShannonAnne) July 18, 2019
Yes Shannon, yes they did spoil it. The other boys were therefore already picked by the other girls, and fans are now attempting to work out who Amber will choose.
The show gave a little too much away, making it too obvious which girls were paired with which boys.
One Twitter user wrote:
"Hate how the producers fix it so that the one torn between two people just happens to choose last and it just happens that none of the other girls have picked either of those two boys even though there's a few single girls in there?"
It's CLEARLY Michael's time to leave the island, seeing as he already should have walked out with Joanna after choosing her over Amber. He made his bed, and didn't lie in it…Rude.
Plus Irish rugby player Greg O'Shea is an absolute gentleman who could treat a lady right, and has been nothing but respectful to Amber since he met her at the Hideaway.
Maura agrees with the public's choice of Greg, after seeing how emotionally abusive Michael was to Amber over the last few weeks. We all know how dirtbag ex-boyfriends crawl their way back in, though…
Feature image: ITV/REX