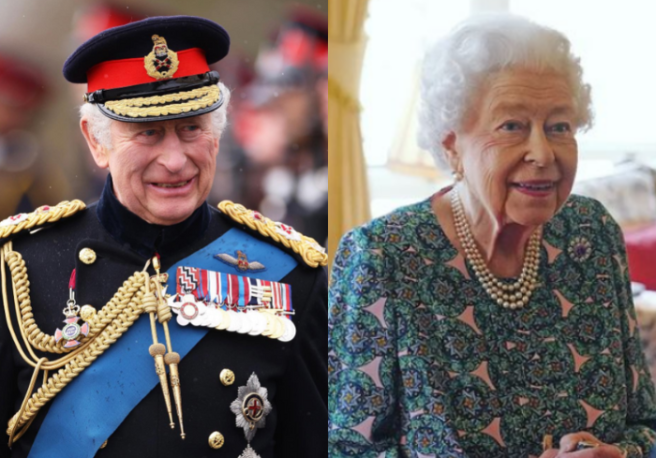 King Charles honours Queen Elizabeth on anniversary of her death
King Charles III has shared an emotional speech to honour his late mum Queen Elizabeth II on the first anniversary of her passing.
The Queen died one year ago on September 8 in Balmoral Castle at the age of 96.
Her passing came just months after the Platinum Jubilee which celebrated 70 years on the throne.
To mark the one-year anniversary of her death, King Charles released a moving statement about his mum, describing her as 'devoted'.
Sharing the speech to The Royal Family's social media pages, the tribute reads, "In marking the first anniversary of Her late Majesty's death and my Accession, we recall with great affection her long life, devoted service and all she meant to so many of us".
"I am deeply grateful, too, for the love and support that has been shown to my wife and myself during this year as we do our utmost to be of service to you all".
William and Kate, the Prince and Princess of Wales, also honoured Queen Elizabeth by posting a collection of photos of her, including some with her grandchildren, to Instagram.
Their joint statement says, "Today we remember the extraordinary life and legacy of Her Late Majesty Queen Elizabeth. We all miss you. W & C".
The Prime Minister of the UK, Rishi Sunak, shared a message for the late Queen, and reminisced on fond memories he had with her.
He wrote, "Today, on the solemn anniversary of the passing of Her Late Majesty Queen Elizabeth II, our thoughts are with His Majesty King Charles III and the whole Royal Family. With the perspective of a year, the scale of Her Late Majesty's service only seems greater".
"Her devotion to the nations of the United Kingdom and the Commonwealth only seems deeper. And our gratitude for such an extraordinary life of duty and dedication, only continues to grow".
"I treasure my memories of those occasions when I met Her Late Majesty, in particular the private audience I had with her at Buckingham Palace before presenting my first Budget as Chancellor. I was struck by her wisdom, by her incredible warmth and grace, but also her sharp wit".
Sunak continued, "People across the UK – whether they had the good fortune to meet Her Late Majesty or not – will be reflecting today on what she meant to them and the example she set for us all. We will cherish those memories".
"The bond between country and monarch is sacred. It endures. So, while we continue to mourn Her Late Majesty's passing, we should be proud that this remarkable legacy of service – and this remarkable bond – continues to grow today under the reign of His Majesty The King".
To mark the Ascension of King Charles, bells will be rung at Westminster Abbey, a 62-gun salute will be fired by the Tower of London, and a 41-gun salute will be fired in Hyde Park today.