Irish Pride is turning bright PINK for the Marie Keating Foundation
So, Storm Emma has well and truly passed, the supermarket shelves are packed once again and the 'bread gate' 2018 is all but a distant memory.
And while we're pretty sure the nation is sick to death of talking about slice pans, we're pretty sure Irish Pride's new product will get people's attention.
In partnership with the Marie Keating Foundation, Irish Pride have launched a 'pink loaf' to raise much-need funds for the foundation.
The Hi Fibre Plus loaf will be wrapped in bright pink packaging and is full of fibre, folic acid calcium and vitamins – and low in fat and sugar.
The money raised will help the Marie Keating Foundation continue to deliver cancer services to help families struggling because of cancer and raise awareness around the YourHealth:YourChoice campaign.
The campaign, fronted by celebrity power couple Ronan and Storm Keating, highlights the important message of maintaining a healthy diet and body weight to reduce your cancer risk and ties in perfectly with Irish Pride's ethos to promote healthy eating and a healthy lifestyle.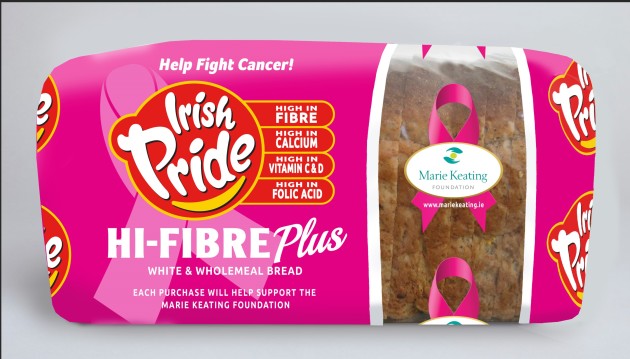 "It is great to support such a worthy organisation as the Marie Keating Foundation; they are making great strides in cancer awareness and prevention each day," said Declan Fitzgerald, Managing Director of Irish Pride.
"Many Irish families have unfortunately experienced cancer amongst their siblings, partner, friends and parents at some stage throughout their lives."
You can purchase your 'Hi-Fibre Plus' pink loaf in stores across Ireland now.