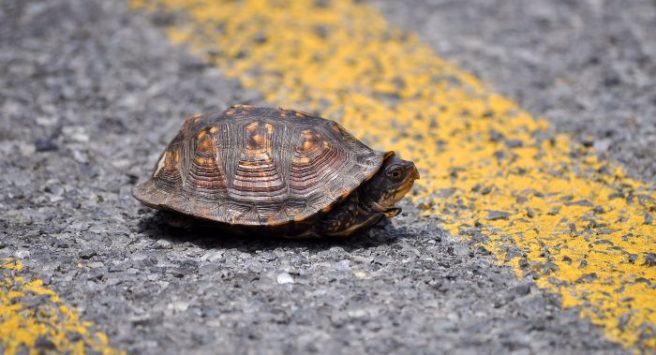 In unexpected news, JFK flights delayed because of tiny TURTLES
In unexpected news today, flights at John F. Kennedy Airport in New York had to be delayed to make way for turtles.
As it's nesting season, the turtles were migrating across the airport's runway. It is reported that around 40 Diamondback Terrapins had to be removed, which took up to two hours.
An JFK airport authority spokeswomen said that some planes were "briefly stuck in queue."
These passengers beg to differ:
We've been on the tarmac for two hours… https://t.co/TTB26GuHuC

— Kevin Zambrano (@kvnzmbno) July 8, 2017
Currently stuck on the JFK tarmac for the only acceptable reason a pilot has ever announced. https://t.co/nOONzAEeFU

— Kibblesmith (@kibblesmith) July 7, 2017
Apparently there are TURTLES on the runway at JFK causing our delay to deplane

— sarah mcc (@unsarah) July 7, 2017
However, Turtles migrating across the airport is not uncommon, and happens every June to mid-July:
I'm impressed there's an operation in place to help the turtles.

— Jennifer Bendery (@jbendery) July 7, 2017
Heh, showed this pal who works with Port Authority airports and he said it happens so often that JFK has staff dedicated to turtle removal. https://t.co/zDc1jf5Gdh

— Gaurav Sabnis (@gauravsabnis) July 7, 2017
Because of the operations in place, all turtles arrived safely across the runway.
— Patrick Strait (@prs71) July 8, 2017