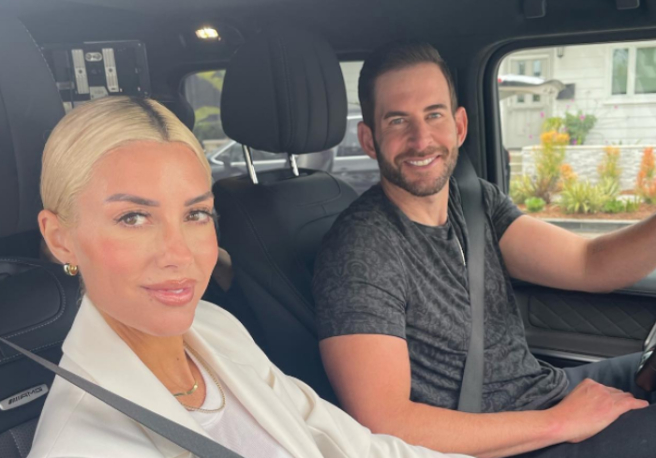 Heather Rae El Moussa details birthday surprise from her husband
Heather Rae El Moussa has revealed her beautiful birthday surprise!
The Selling Sunset star turned 36 over the weekend – her first birthday since becoming a mum to her son Tristan in February.
Now, a few days on from enjoying her celebrations, Heather has treated her 3.1M Instagram followers to an insight into her special day.
Last night, the new mum posted a video montage of the beautiful birthday surprises that her husband Tarek treated her to.
Firstly, the video showcases Heather entering a black party bus, complete with balloons and champagne.
"Alright, so the birthday celebrations are about to start and she has no idea where we're going!" Tarek teased to the camera.
On their way to Heather's surprise, her adoring husband popped some champagne and paid tribute to her, saying: "So, on September 16th, 1987, Heather Rae Young was born – and today, she is an El Moussa. She is the best wife, mother, daughter, friend, and I am a very lucky man."
The video montage then cuts to the reality star's special birthday treat – a luxury hotel room decorated with a rose petal trail, sentimental photos, and a petal heart with 'T + H' written inside it. As the couple walked in, Tarek also surprised Heather with their wedding song playing on speakers.
"36 years young… I don't know how I got this lucky to have a man who puts a smile on my face daily and looks after my heart. The greatest gift I've ever gotten was him. Celebrated 36 with the best gifts of all: my husband, my baby, Tay & Bray," Heather penned lovingly alongside the video.
In the comments section of her post, many Selling Sunset fans went on to send Heather their birthday wishes, as well as praise Tarek for his wonderful surprise.
"I love how he spoils you!" one follower gushed.
"You guys just compliment each other so well," another added.