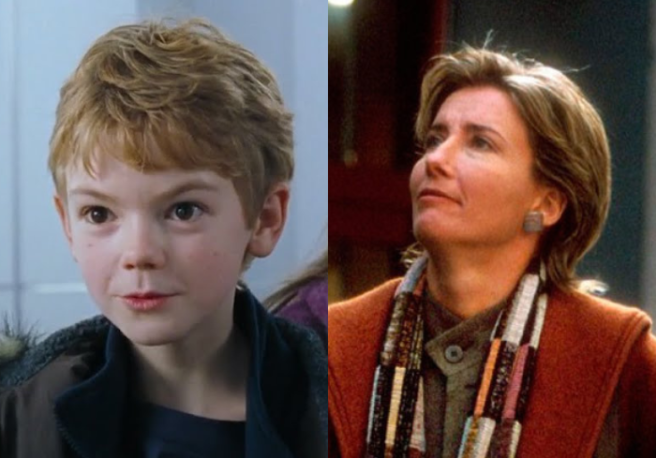 From worst to best: Ranking our favourite Love Actually storylines
Christmas is all around us, which can only mean one thing – it's Love Actually season!
This year marks 20 years since Richard Curtis' star-studded festive rom-com burst onto our screens and slowly became a modern Christmas classic. Even though several aspects of it have quickly become outdated (such as minimal diverse casting, fat shaming and transphobic remarks), Love Actually still remains to be one of our favourite flicks to watch all winter long.
To celebrate the film's 20th birthday, we thought we'd take a look back at this 2003 piece of nostalgia and rank each of its storylines, from worst to best. There are nine plots in total, and all of them range in various degrees of romance, heartbreak and comfort.
So, what are you waiting for? Take a deep dive below, and discover how, in the words of Hugh Grant himself, Love Actually is all around:
9. Colin & Tony
We'd like to believe that this Love Actually storyline is renowned for being the worst one of all. It focuses on Colin (Kris Marshall), the best mate of film producer Tony (Abdul Salis), who comes up with the absurd plan of jetting off to America in the hopes of hooking up with women. While many parts of Love Actually have not aged well, this storyline in particular just feels completely out of place compared to the rest of the plots.
8. Juliet, Peter & Mark
Arguably, this love triangle has become one of the most talked about storylines in the movie's recent history – and not just because Keira Knightley was only 17 at the time of filming. In the eyes of the early 2000s, Mark (Andrew Lincoln) secretly harbouring feelings for the wife of his best friend Peter (Chiwetel Ejiofor) might have been considered romantic. Nowadays, how he deals with those feelings (only filming clips of her on her wedding day, being rude to her, showing up at her doorstep to secretly profess his love) is being labelled as "creepy". While Mark's unrequited love for Juliet has the potential to be a beautifully heartbreaking plot, it doesn't necessarily shine in the best light in 2023.
7. Jamie & Aurélia
This might be a controversial opinion, but we can't help but think that the love story of Jamie (Colin Firth) and Aurélia (Lúcia Moniz) is one of the weaker plots of Love Actually. Yes, his previous relationship broke off in heartbreaking circumstances, but Jamie's quick turnaround to proposing to Aurélia just a few short weeks after his breakup is, we think, stretching it a bit too far. While the pair falling in love through a language barrier is undoubtedly romantic, something always seems to be missing for us in this particular romance.
6. Billy Mack & Joe
The only platonic storyline in Love Actually, 'ageing' rockstar Billy Mack (Bill Nighy) and his manager Joe (Gregor Fisher) are always such a fun duo to return to. As bitter breakups and intense romances continue throughout the movie, the interludes of Billy constantly embarrassing Joe give us a necessary bit of comic relief. However, even though their difficult relationship is mostly played for laughs, they do provide the occasional sweet moment. In their final scene, Billy gives up his prime opportunity to celebrate Christmas Eve at Elton John's house, and instead, chooses to spend the evening with Joe – now *that's* love!
5. John & Judy
Although John (Martin Freeman) and Judy (Joanna Page) have relatively minor roles in the film compared to the other plots, we can't help but adore them. Not only are they a heartwarming example of how important consent is, but their gentle build-up to John asking Judy out is incredibly charming. It's just a shame that their scenes aren't more family-friendly!
4. Sarah & Karl
Every time we rewatch Love Actually for the millionth time, we find ourselves deliriously wishing that Sarah (Laura Linney) and Karl (Rodrigo Santoro) can find a way to be together – even though we know they won't. This is by far one of the most devastating threads of the whole film, particularly as Sarah's relationship with her mentally ill brother is drawn from writer Richard Curtis' own relationship with his late sister. Frustration seeps through us when Karl abandons Sarah just as they are about to begin a relationship, and we feel Sarah's pain when she is forced to accept that her dreams of being with Karl have been crushed for good. It gets us every time!
3. Joanna, Sam & Daniel
This storyline never fails to tug on our heartstrings! Not only do we have the most adorable childhood sweethearts in Sam (Thomas Brodie-Sangster) and Joanna (Olivia Olson), but we are also treated to a gradual, wholesome bond between the young boy and his stepdad Daniel (Liam Neeson). Despite being plunged into grief after the death of his wife, Daniel steps up to be the parental figure Sam needs – and, in turn, helps him to get the girl of his dreams. Additionally, the brief moment where Sam calls Daniel "Dad" for the first time might just be the most magical scene in the whole film.
2. David & Natalie
It wouldn't be an early 2000s Richard Curtis rom-com without Hugh Grant, now would it? In any other scenario, David and Natalie's will-they-won't-they storyline would take the top spot in our list. The romantic sparks between Grant and Martine McCutcheon are beyond endearing, right from their first meeting. Our hearts swell when David knocks on 100 doors in the "dodgy end" of London just to find Natalie again, and the build-up to their first kiss at the end of the school concert always gives us butterflies. These two are the definition of a swooning romance!
1. Karen, Harry & Mia
Yes, we know it might seem unusual for us to pick one of the saddest Love Actually storylines as our ultimate favourite. However, the chemistry between Emma Thompson and Alan Rickman in every Karen and Harry scene is just too good not to reward. For us, the scene that clinches the title for these two doesn't actually feature Harry at all. After she discovers that her husband has been having an affair with his younger employee Mia (Heike Makatsch), Karen slips into her bedroom and has a quiet sob to herself. Set to the song Both Sides Now by Joni Mitchell, Thompson gives a devastating performance that also leaves us in tears every time we watch it. Even though their relationship is a painful one, we can't help but note that both actors – especially Thompson – steal the film in the most breathtaking way.