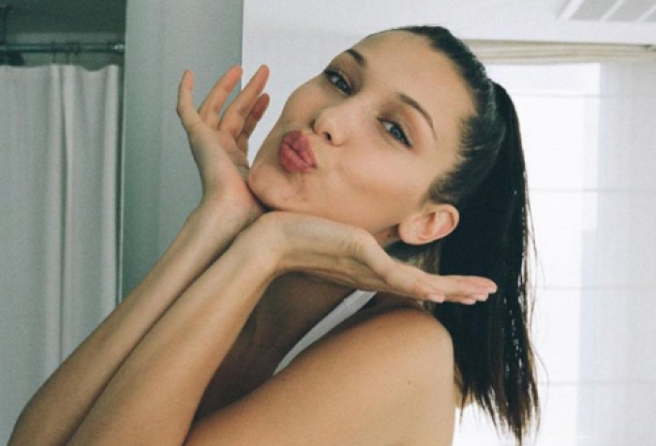 From Bella Hadid to Huda Beauty: The Korean hack for a perfect base
Instagram is the place to find obscure and bizarre beauty hacks, and the queen of makeup trends has got to be Huda Kattan.
Taking to her blog and Huda Beauty Insta page, which boasts over 24 million followers, the makeup guru shared a makeup trick she learned from none other than model Bella Hadid.
The trick is what gives Bella her flawless, airbrushed foundation look, and while a perfect base might be what we all long for, the logistics of the hack might put some people off.
Essentially, the hack involves dunking your fully made up face into a vat of cold water.
It sounds painful, but it's been given the seal of approval from Huda herself.
Taking to the 'gram, Huda applied her foundation, concealer and baking powder before submerging her face in plain old uisce.
Initially, the mogul wasn't completely impressed with the results, but after adding more bronzer and re-setting her brows, the effect was pretty flawless.
'It kind of seems like, because of the cold water, we're literally sealing the makeup into your skin, so I feel like the pores have closed, the makeup is inside my skin, it's become part of my skin, and that's also why it looks so smooth, I've never seen my skin so airbrushed,' she said, in a YouTube video demonstrating the hack.
Huda also advises that the face dunking is a better method for those with oily skin than dry.
She also admits that while it may give that flawless, Insta-worthy finish, it probably isn't so good for the health of your skin.
'I don't know if this is good for your skin, because if you think about it, you're kind of closing the makeup into your pores, so I think the removal has to be better, you cannot sleep with the makeup on your skin in general but this is going to be even worse.'
'You really want to make sure that you're removing it properly with a little bit of hot water, getting deep into your pores maybe using a little bit of a clay based moisturiser which really pulls (out) any product.'
Maybe we'll save this Korean beauty hack for special occasions , then.