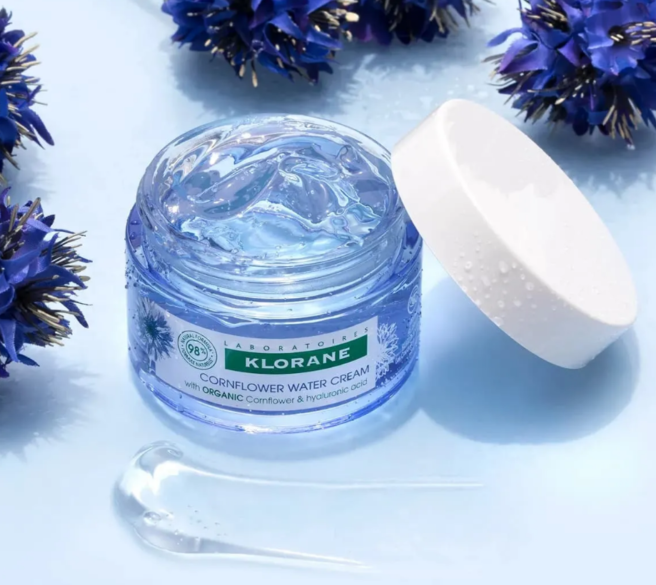 French favourite Klorane launches innovative facecare collection, promising radiant, beautiful skin
Klorane has developed a fully vegan, three-range collection of organic, clinically proven products containing naturally-derived ingredients for different skin types. With beautiful textures and exceptional consumer trial results, this facecare collection is inspired by three powerful plants:
The organic Cornflower to hydrate, decongest and plumb-up all skin type.
The organic Aquatic Mint for the perfect anti-pollution routine of combination to oily skin
The organic Peony for soothing and nourishing very sensitive and dry skin.
With their plant-based products and dedication to sustainability, Klorane carries on to truly embody mother nature.
Klorane controls its entire value chain to ensure the products are eco-conscious while guaranteeing maximum efficiency. Klorane's passion for the plant world is also demonstrated in its support for the Klorane Botanical Foundation, which aims to preserve and promote plant heritage worldwide.
Organic Cornflower – For all skin types
Three vegan products to tone, hydrate and smooth skin. The Organic Cornflower range includes four key ingredients to keep your skin hydrated – they are:
Organic Cornflower Floral Water – Known for its soothing properties, cornflower floral water helps to hydrate and soothe the sensitive areas of the face, and visibly reduce puffiness. Certified organic and 100% natural-origin, the water is extracted on site using steam distillation from Centaurea cyanus L. cornflower.
Organic Edelweiss – Softens and protects. Grown organically in the Swiss Alps at an altitude of 3,000 meters, this plant is known for its antioxidant properties. It helps protect the skin against external stresses such as changes in temperature, humidity or pollution. You can find this active only in the ultra-concentrated Wake Up Call Serum.
Three vegan products to tone, hydrate and smooth skin.
Plant-based Hyaluronic Acid – 100% plant-based, it is obtained through a fermentation process using wheat grain and lactic acid bacteria to create a hyaluronic acid with a very high molecular weight (capable of holding 1,000 times its weight in water). Its superior film-forming properties help retain water at the skin surface by restoring the hydrolipidic film and limiting trans-epidermal water loss.
Dextran Sulphate – A powerful decongestant that acts on two levels.

Prevention: this plant-based active ingredient allows skin to benefit from all the nutrients essential for its proper function and radiance.
Corrective: when massaged into the skin, it stimulates skin microcirculation to reduce signs of fatigue.
Meet the range:
Step 1 – Wake Up Call Serum with Organic Cornflower (RRP €35.00 50ml)
Immediately waken dull, dry skin with this skin quenching serum. An ultra-light aqueous texture that transforms into water on contact with the skin. An highly concentrated hydrating and smoothing serum, made with 97% natural-origin ingredients and antioxidant protection.
Trial results include:
98% agree skin feels plumped
99% agree skin feels smooth
Step 2 – Water Cream with Organic Cornflower (RRP €33.00 – 50ml)
Hydrate, plump and brighten for a radiantly fresh complexion. With 98% natural-origin ingredients and its high concentration of plant-based hyaluronic acid and natural-origin glycerin, the Cornflower Water Gel-Cream delivers a wave of freshness and hydration to thirsty skin. Skin is quenched and hydrated for 24 hours.
Trial results include:
83% agree immediate hydration
82% agree skin is plumped
Step 3 – Soothing Eye Patches with Organic Cornflower (RRP €30 24 7 x patches)
Hydrating, ultra-fresh and cooling hydrogel eye patches with an anti-fatigue effect, perfectly adhere to the skin for better diffusion of its active ingredients with smoothing and moisturising benefits. In just 15 minutes, signs of fatigue (dark circles, puffiness and fine lines) are visibly smoothed out8.
Made with 99% of natural-origin ingredients including natural seaweed, these eyes patches have been ophthalmologically and dermatologically tested. Free from fragrances, silicones, preservatives.
Trial results include:
91% felt puffiness was reduced
90% noticed a reduction of dark circles
Complete the routine with Klorane's beloved cleansers:
Micellar Water with Organic Cornflower (RRP €23.50 400ml)
Specially designed for sensitive eyes and contact lens wearers, our Organic Cornflower Micellar Water has a minimal formula of just 6 ingredients to effectively remove make-up from the face, eyes and lips. It leaves the skin feeling clean, soothed and soft to the touch. Designed to minimise the risk of allergic reactions.
Eye Make-Up Remover with Organic Cornflower (RRP €16.25 200ml)
This Eye Make-Up Remover gently removes make-up while respecting the most sensitive eyes. This makes it ideal for contact lens wearers. Formulated with 87% naturally-derived ingredients, it respects the sensitive eye area and the most delicate eyelids. With an identical pH to that of tears, it won't sting the eyes.
Klorane's commitment
Through Klorane's Botanical Foundation and the agroecology methods, they grow, harvest and process the blue flower in a short supply chain in France, just 48 km from the extraction site. The reduced ecological footprint ensures optimal traceability and perfect product quality control. The harvesting is done manually by seasonal staff on social reintegration programs.
Organic Aquatic Mint – For combination to oily skin types
A certified cosmos organic range to purify, mattify and hydrate. The Aquatic Mint products have 4 key ingredients that are for the perfect anti-pollution routine – including:
Aquatic mint/mentha aquatical – Purifying and anti-pollution, protects against and removes toxins in the skin. The Klorane botanists have selected the Mentha aquatica L. variety for its high polyphenol content – known for their antioxidant properties. Mentha aquatica L. is organically farmed on Klorane's 200 hectares of land in the Tarn region. It is produced as part of a short supply chain in France with High Environmental Value certification. The native fresh plant extract is obtained using the Green Native Expression®, process, with no water or solvents, to respect the active substances found in the plant cells. This patented extraction process allows a 72% reduction in the carbon footprint.
Monolaurin – Sebum reducing properties.
White clay – Antibacterial and sebum absorbing. It cleans the skin and removing impurities & dead cells.
Aloe vera & glycerine – Enables optimal hydration, controls excess sebum in oily patches without further drying out the skin.
Meet the range
Step 1 – Purifying Stick Mask with Organic Mint (RRP €25.00 25g)
The purifying and anti-pollution properties of organic aquatic mint are combined with the absorbing powers of white clay. It restores the skin's natural balance and protects it against the effects of pollution. A 100% natural origin formula that contains more than 15% hydrating agents allows the mask to mattify skin without drying it out.
Trial results include:
88% agree it gives an intense purifying effect
81% agree the skin's natural balance is restored
Fun to apply: it can be applied with precision, guided by the blue colour to help target the zones that most need purifying.
Intense detox sensation: a cool sensation with a refreshing mint scents envelops the skin in a bubble of purity.
Choose your leave-on time:
5 minutes for an immediate detox effect, to give you instantly fresh and glowing skin.
10 minutes to intensely purify and mattify. Leaves the skin astonishingly pure, clear, and visibly smoother.
20 minutes for total transformation, restores the skin's natural balance and protects against the effects of pollution.
Step 2 – Purifying Moisturising Cream with organic Aquatic Mint (RRP: €27.00 30ml)
Perfectly adapted to the needs of combination to oily skin, this daily care product combines organic aquatic mint with monolaurin, a 99% natural-origin ingredient with sebum-reducing properties.
The skin is immediately purified and stays matte for longer whilst providing 24-hour hydration. This product is an excellent base for make-up.
Trial results include:
97% agree skin is immediately purified
94% agree skin stays matte for longer
Klorane's commitment
Aquatic mint has a wonderful ability to remove pollution from water! Klorane Botanical Foundation has undertaken a project in collaboration with the CNRS bio-inspired chemistry laboratory to clean up water in a river in the Cévennes national park that is contaminated with heavy metals using an innovative and ecological process: phyto-decontamination (cleaning up with plants, including aquatic mint).
Organic Peony – for dry, sensitive skin
A certified cosmos organic range to soothe, nourish and restore sensitive, irritated skin. The Organic Peony range includes two key ingredients with high-tolerance for the most sensitive skin. They are:
Organic peony – Soothing and anti-irritant properties. Proven to reduce skin sensitivity by half. Klorane chose the Paeonia lactiflora Pall. (Paeoniaceae) botanical species for its roots, rich in paeoniflorin which has soothing and anti-irritant properties. This peony is cultivated in its original ecosystem, in China, according to organic farming methods and with no chemical treatment. It is harvested by hand and then the roots are washed, peeled and dried before being sent to the Klorane extraction site in Gaillac (Tarn, France).
Organic argan oil and safflower oil – Nourishing properties, restores the skin's moisture barrier. Significantly increases ceramides in the skin,
Meet the range
Step 1 – Milky Silky Make-up Remover with Organic Peony (RRP €22.00 200ml)
With a soothing formula containing organic peony and enriched with organic argan oil to remove make-up effectively in a single step. The gentle cleansing agents chosen for this formula preserve the hydrolipidic film of sensitive skin.
Trial results include:
97% agree skin is soothed
97% agree skin feels comfortable
94% agree make-up is removed gently
Step 2 – Soothing Rich Cream with Organic Peony (RRP €27.00 40ml)
Soothing organic peony extract combined with the protective strength of naturally-derived organic oils from organic argan oil and organic safflower oil nourish and restores the skin moisture barrier.
Trial results include:
99% agree skin feels smooth
Skin is protected from dehydration stresses
Restores the skin moisture barrier
Step 3 – Soothing Stick Mask with Organic Peony (RRP €25.00 30ml)
This high-tolerance face mask, containing neither colorants or fragrance, concentrates all the soothing properties of organic peony combined with the benefits of organic argan oil and organic shea butter to intensely nourish and restore moisture levels. Made with 99% natural origin ingredients and 100% recycled and recyclable packaging.
Trial results include:
93% reduction in immediate stinging caused by dry skin
92% agree immediate soothing
100% agree skin is intensely nourished
96% agree skin is restored
Klorane's commitment
Klorane Botanical Foundation is committed to protecting wild peonies in China that are threatened by extinction. Klorane has partnered with the Beijing Institute of Botany – A research program to develop a method to multiply the endangered peonies to be reintroduced and protected in their natural environment.
Available from pharmacies nationwide and online at TheSkinNerd.com.