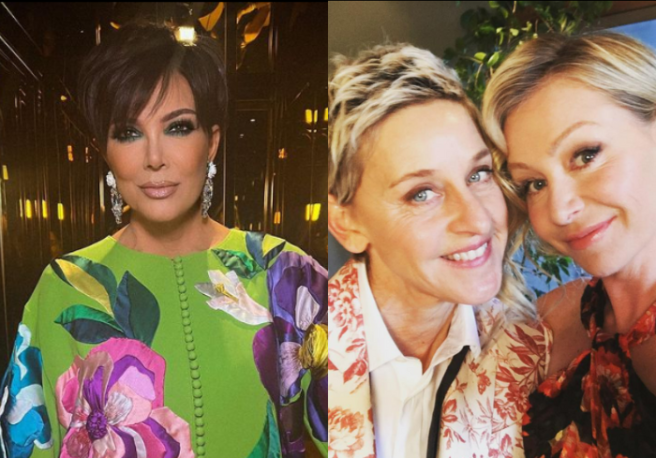 Ellen DeGeneres & Portia renew vows with Kris Jenner as officiant
Congratulations are in order for Ellen DeGeneres and her wife Portia de Rossi as they have renewed their wedding vows.
Earlier this week, the couple were hosting a party to celebrate Portia's 50th birthday with their nearest and dearest when suddenly, Portia appeared in her wedding dress, surprising the crowd and her wife with a renewal ceremony.
As she made her entrance into the room in her halter-neck backless gown, Brandi Charlie sang and played guitar.
To add to the surprise, the couple's best friend, Kris Jenner, officiated the ceremony.
The 'Momager' took to Instagram to repost a clip from the special day, revealing it was an "honour" to do such a special gesture for her friends.
The 67-year-old wrote, "It was such an honour to officiate my beautiful BFFs Ellen and Portia wedding vow renewal".
"I love you guys so much and wish you a lifetime of happiness. Love and laughter!!!".
The Ellen Degeneres Show host shared the same video to her 131M Instagram followers and penned, "Portia surprised me at her birthday party by renewing our vows. Thank you @KrisJenner for officiating and @BrandiCarlile for performing, and Portia for being the greatest gift to me, even on your birthday".
Many of Ellen's fans headed to the comments to congratulate her and Portia on their vow renewal after almost 14 years of marriage.
"This is so pure and beautiful. When times are hard, it's beautiful to see love shine", wrote one fan.
A second fan said, "This is so absolutely beautiful. May you truly live happily ever after".
"Oh my goodness! Congratulations y'all! A surprise vow renewal, I could just happy cry for you both!", added a third.
Ellen and Portia tied the knot in Los Angeles back in August 2008. They first met in 2000, and it wasn't until 2004 that the pair started dating.