Deleted scene will completely change your opinion of Malfoy
So, the Harry Potter franchise is full of lovable, yet often underappreciated characters – Ginny Weasley, Nymphadora Tonks and Dean Thomas, just to name a few.
But, putting those (and many more) aside for a moment, it's time we focus our attention on the real unsung hero of the series, Draco Malfoy.
Yes, Hogwarts resident bad-boy may have originally been portrayed as a selfish, spoilt brat, but by the time the final films rolled around, the Slytherin poster-child began to show a vulnerable side.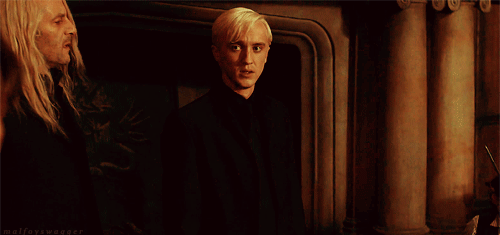 He never wanted to kill Dumbledore. He was just a child who was easily influenced by his father's love for the dark arts.
And a deleted scene from Deathly Hallows: Part 2, proves this to be true.
The unseen clip shows Draco publicly denouncing Lord Voldemort and lending a helping hand to Harry by throwing his wand at him before the final showdown.
The footage was released along with another scene that shows Harry, Ron and Hermione plotting a break-in at Gringotts.
The clip resurfaced after a fan tweeted to say they would love the chance to read Harry Potter from Malfoy's point of view, prompting a reply from J.K. Rowling herself…
@diddy_marie_ It would look a lot like this. pic.twitter.com/wPnCh0LPxP

— J.K. Rowling (@jk_rowling) June 9, 2014
See, he wasn't all bad.
In fact, we reckon there's a little bit of Draco Malfoy in us all.