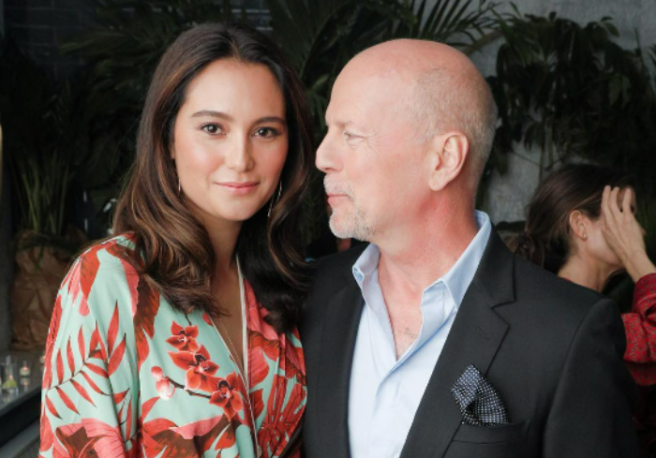 Bruce Willis' wife Emma gets emotional as she details his dementia
Bruce Willis' wife has opened up about his heartbreaking dementia diagnosis.
The Die Hard star initially retired from acting in 2022 when he was diagnosed with aphasia, which was causing his speech abilities to deteriorate.
Then, in February of this year, Bruce's family confirmed that the 68-year-old had since been diagnosed with frontotemporal dementia.
Now, in her first TV interview, Emma Heming Willis has chosen to speak out as part of World Frontotemporal Dementia Awareness Week.
Speaking to host Hoda Kotb on US morning show Today, the 45-year-old got emotional as she detailed how difficult it has been with Bruce's diagnosis.
"Dementia is hard. It's hard on the person diagnosed, it's also hard on the family. And that is no different for Bruce, or myself, or our girls. When they say this is a family disease, it really is," she explained.
Bruce and Emma share two young daughters together – Mabel (11) and Evelyn (8). When asked how her girls are coping with the changes, the mum-of-two noted that they have a "very honest and open household" and that they needed to "explain what [dementia] is."
"It was important that we let them know what it is because, you know, I don't want there to be any stigma or shame attached to their dad's diagnosis, or for any form of dementia," the model added.
Labelling herself as a "care partner", Emma continues to receive support from Bruce's ex-wife Demi Moore and the former couple's three daughters – Rumer (35), Scout (32) and Tallulah (29).
Emma went on to describe Bruce's moment of diagnosis as "a blessing and a curse" for the family, revealing: "It doesn't make it any less painful, but just being in the acceptance and just being in the know of what is happening to Bruce just makes it a little bit easier."
In her concluding thoughts, the entrepreneur praised her husband by gushing: "For me to be out here doing this, this is not my comfort zone, but this is the power of Bruce."