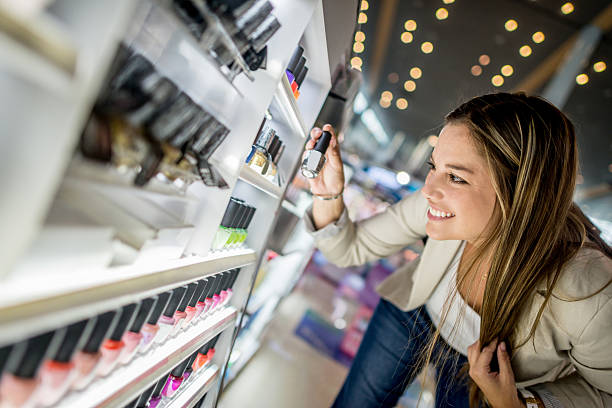 Beauty must-haves: 10 payday products that are worth the splurge
As payday approaches, it's tempting to spend your hard-earned cash on a night out or a new outfit. However, there are plenty of good reasons why you should also consider treating yourself to some new beauty products.
A new fragrance can lift your spirits, or investing in high-quality products can have a transformative effect on your skin and hair. Whether you're looking to tackle blemishes, reduce the appearance of fine lines and wrinkles, or simply want to give your complexion a boost, there are a plethora of products on the market that can help. And they do say that your hair is your crowning glory, so investing in hair care products is another great way to treat yourself this payday.
Taking the time to pamper yourself with something new is a form of self-care and in our busy lives, that's never been more important.
This payday, we think each of these products, are well worth the spend.
Dr.Jart+ Ceramidin™ Ectoin®- Infused Cream
Consider the latest launch from Dr.Jart+ Ceramidin™ Ectoin®- Infused Cream as your best defense against dry skin yet. A feat of Korean innovation, Ceramidin™ Ectoin®- Infused Cream is an ultra-rich, velvety cream powered by Ectoin® (the skincare ingredient to know in 2023) – as well as five potent ceramides. Highly concentrated and fast absorbing, it melts into skin, boosting moisture levels instantly by 139%, protecting the skin barrier and leaving skin much, much happier. With an RRP of €58/£50, it is available to buy from Brown Thomas, www.drjart.co.uk and www.spacenk.com.
Valentino Donna 'Born In Roma' Valentino
The new Valentino Born In Roma Donna eau de parfum is a modern floral fragrance for women with key messaging focused on 'women to celebrate themselves every day'. Luxurious Jasmine notes and Vanilla Bourbon, (one of the most expensive extracts in the world) blend with a sensuous woody base to create a captivating floral amber. The bottle is encased in the armour of Valentino's iconic stud, a fashion signature of Valentino Couture inspired by Roman architecture and representing a rebellious new era for high fashion. Available to purchase from Brown Thomas, Arnotts Beauty Hall, Boots and all good pharmacies nationwide.
Superfood Booster-Powder by Eminence from the NEW Eminence Tropical Superfoods Collection
Introducing the first product from Eminence's new Tropical Superfood Range the Superfood Booster-Powder. It contains Kakadu Plum, a tart fruit that's a potent botanical source of naturally occurring Vitamin C to promote visibly healthy-looking skin as well as Coix Seed. This is a botanical source of niacinamide (vitamin B3), which works to brighten and enhance the look of skin tone, spirulina a botanical source of vitamin K that can help the skin appear stronger and sweet potato which contains high levels of beta-carotene help the skin look and feel rejuvenated. Just add a spoonful to your favourite cream moisturiser and give your skin a healthy, natural glow. For more information or to purchase, visit www.eminence.ie.
IT Cosmetics Your Skin But Better CC+ Nude Glow with SPF 40
Get glowing with brighter, hydrated skin instantly and over time with CC+ Nude Glow SPF 40 – a lightweight medium coverage skin tint with a healthy glow finish in 12 shades of nude. Featuring 90% skincare, the patent-pending formula is infused with a Brightening Glow Serum with 2% niacinamide, hyaluronic acid, green tea extract and SPF 40. CC+ Nude Glow has the same colour correcting power you love but with a different texture, coverage level and finish than the other IT Cosmetics CC+ Creams. In just 4 weeks, this colour-correcting makeup is clinically tested to address your top skin concerns by visibly improving brightness, skin texture and softness and uneven skin tone. Plus, it gives you 24 hours of hydrated skin for an instant healthy glow finish and that no-makeup makeup look. Available to purchase from Brown Thomas, Arnotts Beauty Hall, Boots and all good pharmacies nationwide.
Seabody Overnight Elixir Serum
This lightweight hybrid serum is enriched with microencapsulated marine actives, MaraFucoidan™ and PhytoMara™, which neutralise free radicals, support dermal cell turnover and collagen & elastin production. It works wonders on the skin and transforms it by nourishing and nurturing the skin. The formula also contains Vitamins A & E, Phytosqualane, Hyaluronic Acid and an array of vegan lipids including Algal Omegas, Jojoba, Rosehip, Grapeseed, Blackcurrant and Sea Buckthorn Oil, delivering a facial-inspired bounty of skin actives overnight. RRP €77 and available to buy here.
OGX Anti Breakage + Keratin Oil Shampoo and Conditioner
Don't break up with your hair, show it some love with OGX Anti Breakage+ Keratin Oil Collection. Infused with keratin proteins and argan oil, the shampoo and conditioner work in harmony and together help to fortify hair, making it more resistant to breakage and split ends caused by brushing and styling. OGX Anti Breakage + Keratin Oil Shampoo cleanses while working hard to help defend against split ends and smooth hair. It helps to fortify each strand. OGX Anti Breakage + Keratin Oil Conditioner helps to maintain your hair's inner strength and moisture. It nourishes each strand, sealing in moisture to help tame flyaways and smooth rough cuticles, so your hair looks smoother and feels beautifully soft. Both products (RRP €9.89) are available from Tesco, Dunnes Stores and pharmacies nationwide.
Sally Hansen Cuticle Rehab™ Oil Balm
The new Cuticle Rehab™ Oil Balm by Sally Hansen is a game changer. It's now possible to instantly restore radiance to nails, cuticles and to promote strong and resilient natural nails finish on the go! It's a multi-purpose solid oil in a convenient balm format for cuticle care when you are out and about. The formula is infused with Aloe, Safflower Oil and Vitamin E Oil which promotes healthy skin and nails. Nails and cuticles feel rejuvenated and deeply moisturized, with 80% of users agree nails look more conditioned after 1 week of use. A must buy for your handbag, (RRP €10.49/£8.99) it is available nationwide from all major pharmacies as well as a selection of online retail outlets.
Rimmel London introduces The Multi-Tasker Concealer
Say hello to your multi-talented best friend! Rimmel introduces new, long-lasting The Multi-Tasker Concealer, a make-up must-have that conceals blemishes, brightens dark circles, and contours for a snatched look. How? The large soft touch wand and ultra-blendable, high-coverage liquid formula work together to give targeted application or full-face coverage that lasts all day. Use it YOUR own way. Use this multi-tasking marvel to conceal (your normal shade), brighten (with a lighter shade) and contour (with a deeper shade) – thanks to its full coverage and versatile formula. With an of RRP €10.99 / £8.49 it is available to buy from all good pharmacies nationwide.
The Inkey List Polyglutamic Acid Dewy Sunscreen SPF 30
The new Polyglutamic Acid Dewy Sunscreen SPF 30 is not just a new sunscreen, it is a product that is clinically proven to hydrate, offer broad spectrum protection and leaves no white cast. It is ultra-lightweight and provides broad-spectrum UVA and UVB protection against the sun's harmful rays through the power of chemical sunscreen filters.
Suitable for all skin types, the daily essential features an innovative 8% hydration trio of polyglutamic acid, glycerin and squalane to visibly plump the complexion with moisture, alongside softening the appearance of fine lines. Layering seamlessly under makeup, the silky SPF formula encourages a smooth and supple-looking base, priming the skin perfectly for subsequent steps. The RRP is €15.99 and it is available to buy from McCauley Pharmacy, online at DistinctBrands.ie and all good pharmacies nationwide.
Liz Earle Beauty Co. at Boots
Liz Earle Beauty Co. have added two new additions to the coveted Glow range. Introducing Smooth & Glow Exfoliating Tonic and Revitalise & Glow Illuminating Gel Moisturiser. The Smooth & Glow Exfoliating Tonic leaves skin feeling resurfaced, without irritation. ​Gentle enough to use both day and night, this is a multi-benefit toner that evens the appearance of skin tone, helps support surface cell turnover and hydrates to leave your complexion looking energised. ​The Revitalise & Glow Illuminating Gel Moisturiser instantly brightens the complexion for a long-lasting glow. This glow-boosting blend quenches skin with hydration, naturally exfoliates, and minimises the appearance of pores for a dewy-looking finish. ​ The Tonic (RRP €25) and Illuminating Gel Moisturiser (RRP €34), are available only at Boots instore and online.
Ella & Jo Squeaky Clean Brush Cleanser
Cleaning your makeup brushes is now a well-established part of our beauty routines. It helps keep your skin clear and your makeup flawless. When you use the Squeaky Clean Make Up Brush Cleanser you no need for water or have long drying times. Your brushes will last longer too. It's little wonder that it's an award-winning product that is a makeup kit essential to both makeup artists and day-to-day makeup users alike. RRP €20 and available to buy here.