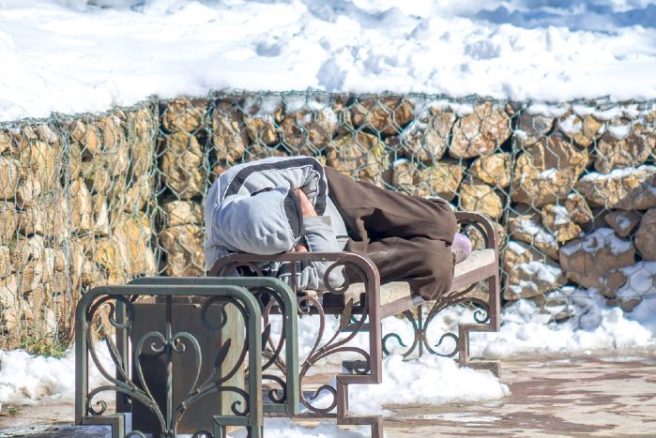 What to do if you see a homeless person sleeping rough today
The country has been hit by one of the worst snow storms in decades, with freezing temperatures and icy conditions forcing many of us to stay indoors.
And while the extreme weather has no doubt causes its fair share of inconveniences, it can be incredibly dangerous for those who don't have a place to sleep.
If you come across someone sleeping rough during the extreme cold snap, the first thing you should do is contact your local homeless service and let them know you are concerned about the wellbeing of the individual or individuals in question.
We have a big push on now to locate any people still sleeping rough #housingfirst Teams @SafetynetPC & @AnaLiffey are on the streets now working to get them into shelter – please help us by using the link https://t.co/KAZY6wQqOm or contact 086 8139015 Freephone 1800707707 pic.twitter.com/6spJ7J16UI

— Homeless Dublin (@HomelessDublin) March 1, 2018
If possible, offer them a warm drink and some food and encourage them to avail of one of the extra beds that have been made available across the country.
Here's a list of organisations taking calls around the country:
Dublin: The Inner City Helping Homeless // 01 8881804 or 085 8389281.
or report to the Dublin Region Homeless Executive online here.
Kildare: Peter McVerry Trust // 1800 804 307.
Meath: County Council // 1890 445 335.
Killkenny: Good Shepard Centre // 056 772 2566 or Council Emergency // 056 779 4145
Cork: Homeless Persons Unit // 021 4963 052
Simon Emergency Shelter // 021 4278 728
St Vincent de Paul // 021 4317 899
Limerick: Homeless Action Team // 1800 606060
Galway: Cope Homeless Service // 1800 788887
Eileen Gleeson, director of the Dublin Region Homeless Executive has urged people to contact homeless services if they witness someone sleeping rough in the extreme weather.
"It's vitally important that anyone who sees a person who's homeless that they link them onto the rough sleeper report, so that we can get to them."