'A disgrace': Kendall Jenner under fire for wearing 'fur coat' on runway
Animal activists and fashion lovers are up in arms after Kendall Jenner walked the runway in what appeared to be fur coat over the weekend.
The model, who has been accused of being irresponsible, sported the garment in question as she walked the DSquared2 A/W 18 fashion show in Milan last Sunday.
The brand is being condemned online, though they have yet to confirm whether the fur-like material is real or not.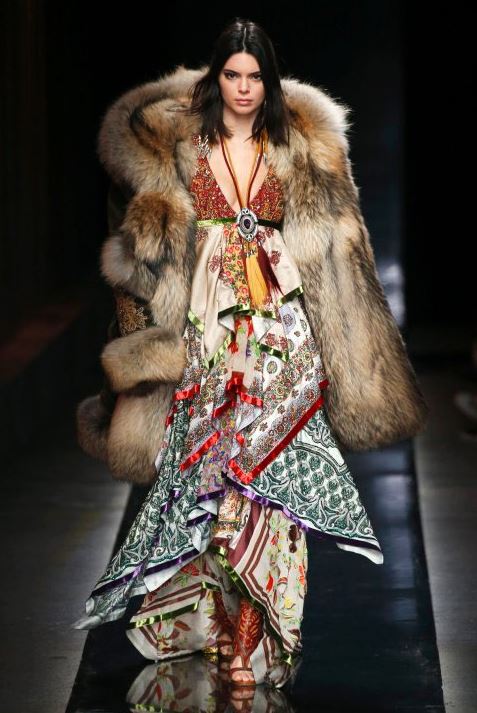 However, no one would would be blamed for assuming the former as the label is known to use fox and rabbit hair in their clothes.
The controversy comes at a pivotal time for the fashion industry, with many high-end labels having already pledged to ditch the fur in 2018.
this coat! backstage @Dsquared2 pic.twitter.com/ndl8d477w8

— Kendall (@KendallJenner) January 15, 2018
Gucci and Michael Kors are just two of the designers that have ceased the use of fur in their products, though animal rights activists are hoping more labels will soon follow suit.
Needless to say, Twitter did not that kindly to Kendall's decision to model the fur creation, seeing as she is such a huge influence for young women across the globe.
Fur is gross and unnecessary. Gucci, Armani, Michael Kors, Stella McCartney, Netaporter and more get the drill but apparently @KendallJenner & @Dsquared2 missed the memo. #FurFree #Fashionista https://t.co/Jy7klC29NN

— New Year Kelly (@DreamInLace) January 15, 2018
I've never seen anything as VILE as the fur coat @KendallJenner is wearing in that photo Isn't it about time this influential family took a stand against fur!??? Come on @KrisJenner @KimKardashian @kourtneykardash @khloekardashian @KylieJenner ENOUGH IS ENOUGH! pic.twitter.com/B9ubHAeH6m

— Sarah Kirby (@sarahkirbyblog) January 14, 2018
@KendallJenner u are a disgrace millions of young girls look up to you and youre encouraging them to have no respect for the beautiful animals on our planet how can u think wearing fur is ok? I hope karma catches up with u soon #KendallJenner

— Wendy (@jovigirl30x) January 14, 2018
why is Kendall Jenner not think about the consequences of her actions .. like I get ur being watched 24/7 but when u are doing a huge runway why tf u wearing real fur when u know everyone is going to come for you .. smh pic.twitter.com/y3j54PDnJd

— Shaye Beattie (@ShayeGomezBeat) January 16, 2018
However, others were quick to jump to the model's defence, pointing out the Kendall was just doing her job and has no choice in the clothes she is told to wear.
People need to lay off @KendallJenner for wearing fur. It's her job to wear garments for the designer.

— Fara Cosens (@FaraCosens) January 15, 2018
I swear people are so sensitive nowadays, imagine getting mad at Kendall Jenner just for wearing a fur coat. Lol

— mr. navigator (@thyNavigator) January 16, 2018