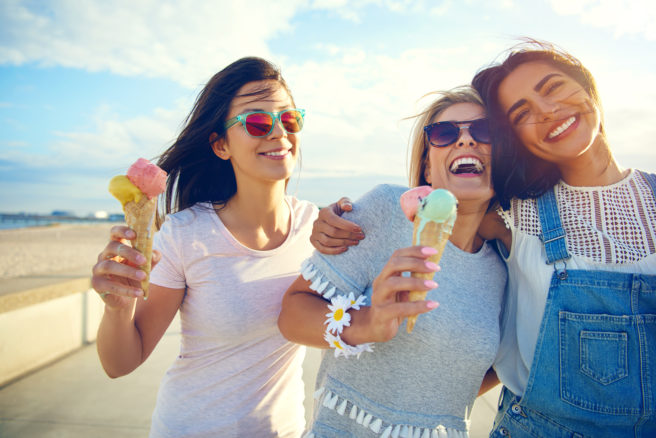 7 simple ways to eat healthy in college without feeling deprived
College life is hard, guys.
Juggling classes, assignments, jobs and of course, going out (you are in college after all) takes it toll on you and can leave you constantly tired.
While getting a sufficient amount of sleep is essential, eating well is another key element to success in college.
You probably don't have the time and money to make Insta-friendly acai bowls with hemp seeds and goji berries, but this doesn't mean you can't be healthy,
If you follow these simple rules, which are more like general guidelines, you are sorted.
1. Learn how to make the most of a microwave
Microwaves are great to reheat some pre-cooked food, but you can also cook loads of things with this appliance: mug cakes, rice, pasta, eggs, veggies, potatoes, fish.
Do a bit of research and you'll be surprised to see how useful a microwave can be.
2. Get a small blender
For a healthy breakfast or a quick snack, throw whatever fruits you have around, a handful of spinach, almond or peanut butter, almond milk, yoghurt or just water and make a tasty smoothie.
This is an easy way to make sure you get a lot of nutrients and fibres at once, even of the rest of your day is instant noodles or pizza.
3. Eat bananas
They are cheap, easy to carry to classes, don't make a mess when you eat them, and also, they are quite delicious. Rich in vitamin B6, manganese, vitamin C, potassium, copper and fibre, bananas are nature's best snack on-the-go.
Get a bunch of bananas every time you do your food shopping so you'll always have something healthy to snack on when you get hungry. They are also a tasty base for your smoothies.
4. Eat something green every day
No, this doesn't include green Smarties and M&Ms. We are talking broccoli, spinach, courgettes, kale, peppers, and any leafy green.
Even if you struggle to get your five a day, including one portion of greens ensures that you get essential nutrients and fibre.
5. Have substantial meals
Chocolate bars and packs of crisps are not real food, they are empty calories. The reason why you crave them is because they fill you up quickly when you are hungry.
To make sure you don't get the midday slump, get (or make, even better) a hearty pasta salad for lunch, a bowl of soup with a sandwich, a big salad with carbs and protein… Something that will actually keep you going for a while.
6. Avoid sodas as much as possible
Sugary and fizzy drinks (even the light version) are pricey and not healthy. Water should be your beverage of choice 99% of the time.
To this day, water is still the best way to stay hydrated, and also the cheapest if you invest in a water bottle.
7. Stop everything when you eat
It is important, even for a few minutes. While we understand breakfast is a tough one, get 15 minutes to enjoy your lunch and your dinner, without being on your phone or on your laptop.
Use this time to focus on your food, chew properly (the first step to a good digestion), talk with your friends or just empty your head.