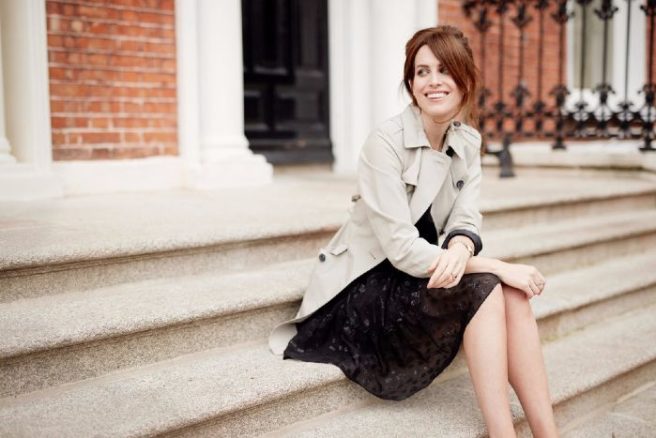 While we may all have that Friday cheat day feeling, we do have majorly good intentions when it comes to healthy eating.
Dublin-based blogger Holly White is the definition of the picture of good health.
Passionate about wellness, natural beauty and plant based eating, the journalist turned stylist is a true inspiration to add more greenery to our plates thanks to her beautiful Instagram account. She is also the co-creator of Nutmost, a healthy snack range.
From her favourite food to what you can find in her fridge, Holly shares with us her eating habits and super healthy lifestyle.
What is your typical weekday breakfast?
If I've been to the gym I make a smoothie with Welleco Vegan Protein, berries, spinach, a banana, Udos oil and water. I've tried a lot of vegan proteins and this is the nicest tasting one I've found. It's really delicious and organic.
Otherwise I have porridge made with jumbo oats soaked overnight. I top this with some coconut yogurt, berries and seeds. I think oats are a really reasonable staple food. A bag keeps us going for weeks.
What about lunch?
Lunch will be some leftover roasted veggies from the night before thrown onto salad leaves, lots of balsamic dressing, hummus and maybe some rye or sourdough toast.
I'm a big believer in bulk cooking dinners for saving time and avoiding temptation, which doesn't always work out but I do try!
What do you usually have for dinner?
Dinner is my favourite meal. Usually we will have roasted veggies, sweet potato wedges, salad and some chickpeas or tofu. At the moment I am really into marinating tofu, and cider vinegar and tamari works so well. I also love roasted cauliflower and I use lots of different herbs.
I always make sure to have a vegan protein, lots of leaves and something warming and comforting like the sweet potatoes or roasted vegetables.
Most nights I'll have a few squares of dark chocolate with some tea afterwards also.
Is it different at the weekend?
Totally. At the weekend we might of out for dinner of if it's a Sunday and we go for brunch we tend to pick on snacky food in the evening afterwards. There's no routine and I love that.
Do you snack during the day?
Well I do love Nutmost, which is an activated almond product myself and my husband co-created. The Himalayan salted ones are my favourites. I also love a good energy ball and if I'm having a busy day I'll try find time to stop and have an almond milk latte.
I try to only drink 1 coffee a day and I do genuinely savour it. We got given a Nespresso for our wedding and the temptation is now there daily in my kitchen!
I also make my own Kombucha. I did a 10 week course on raw food and fermentation and love having this most days also.
What would be your ideal food day?
In an absolutely ideal food day I'd have pancakes for breakfast with loads of coconut yogurt, berries and almond butter and an almond milk latte.
For lunch I'd head to the Happy Pear in Greystones for a feed and I'd skip dinner and go straight to dessert and have my raw lemon and raspberry cheesecake!
The one food you could have everyday for the rest of your life?
I'm really into a good smoothie. I could live on those for the rest of my life.
What is your favourite dessert?
Our wedding cake is the nicest dessert I've ever had. It was a raspberry and chocolate raw torte made by Susan Jane White.
It's on the cover of her second book The Virtuous Tart. We served it with fresh Wexford strawberries and Nobo Salted Caramel. It was so good! Vegan or not everyone loved it!
What is your favourite meal of the day?
A Saturday morning breakfast is the nicest moment of the week for me. I love taking time, maybe getting the papers and staying in my PJ's as long as possible.
Your favourite restaurant in Dublin/Ireland/the world?
My favourite restaurant in Dublin is Sova Food Vegan Butcher off Camden Street. The owner Bart is incredible. We first went when he had a pop up in Rathmines and it's amazing to see him now having one of the busiest places in Dublin. It's BYOB and the food is so beautifully presented and a great addition to the Dublin food scene.
In Galway, I love Ard Bia at Nimmos and also Orso in Cork. Both do such great locally-sourced food and have real charm and character.
In LA I love Café Gratitude. It's a vegan hub and full of a really eclectic mix of people and incredibly delicious food.
When I first ate there I was blown away by things like vegan cheesecake which is made with cashews and has the same texture but didn't give me the bloat that normal dairy cheesecake did. I found it very inspiring.
The best brunch place in Dublin?
I love Two Boys Brew. We've gotten to know the guys behind it from going in and out a few times and they're lovely.
It's a really exciting time for food in Ireland and I love seeing so many entrepreneurial people who are passionate about doing things well.
Everything there is fresh, locally-sourced and they have no problem tweaking things to make sure you get exactly what you want.
Any "food pet peeves"?
Poor hygiene and presentation or bad service in any restaurant.
I feel if you are paying for something it should be nicer than what you could do at home.
What food would you not eat for the whole world?
I'm vegan for the past 3 years so meat would now be a big no for me. I've no interest and don't miss it and giving it up has been one of the best decisions I've ever made.
What can we always find in your fridge?
Loads of coconut yoghurt, berries, sweet potatoes, avocados, lots of roast veg leftovers and some dark chocolate.
You have friends over for dinner, what do you cook for them?
I love the idea of letting people help themselves so will always serve things buffet style.
I try to prep as much in advance so as I can actually enjoy the evening so ideally I would do a few Ottolenghi style salads, loads of dips and hummus, great bread and a simple main like a veggie curry.
I also think if someone offers to bring something say yes! You don't have to kill yourself preparing for a dinner party!
Otherwise I'd probably serve fresh strawberries and a good vegan brownie for dessert with some Nobó – which is a dairy free Irish ice cream company. !
Do you find it hard to eat a healthy diet in a daily basis?
Working from home I find it hard to avoid constant snacking throughout the day. Whenever I am avoiding something or stuck I find myself making more and more cups of tea.
I definitely think if you can get organised food wise you save so much money. I'd say I eat well about 3 days out of five during the week. I go to a lot of events with work and if there's treats on offer it's hard to resist.
What is your guilty pleasure?
A glass of Champagne and some dark chocolate is always a treat or I love Booja Booja – which is a dairy-free ice-cream you get in health food stores. The raspberry one is amazing
Your favourite place for a drink in Dublin?
I love Peruke and Periwig on Dawson street. It's really intimate and so creative.