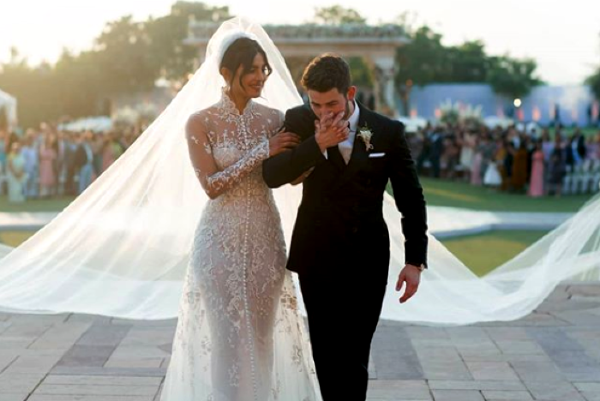 Priyanka Chopra and Nick Jonas have been living in a love bubble the past few weeks.
The couple were married on December 1 and basked in five day celebration in Jodhpur, India.
And now their getaway continues as the enjoy their first days alone as a married couple.
The smiling bride took to Instagram to give us a sneak peek of the two on their honeymoon.
The actress is snuggling up to her new hubby as she dawns her stunning, diamond ring.
They seem the epitome of relaxation with Priyanka in a comfy bathrobe and Nick puffing on a cigar.
She captioned the image: "Marital bliss they say".
According to India Today, the lovebirds are honeymooning in Oman's Six Senses Zighy Bay – a breathtaking beachside resort on the Arabian Peninsula.
The resort has the best of both worlds as it has its own private marina as well as stunning mountain views.
The photo came as a surprise to fans, for the actress previously revealed that her and Nick had to return to work straight away.
However, it seems that they were able to steal away for the post-wedding honeymoon before getting back to their busy schedules.
They've been soaking up the sun and enjoying some outdoor Christmas classics during their warm nights together.
Nick recently shared a video of Priyanka watching Elf for the first time and it is absolutely adorable.
Congrats again to the newlyweds and we're glad you were able to squeeze in a romantic getaway!