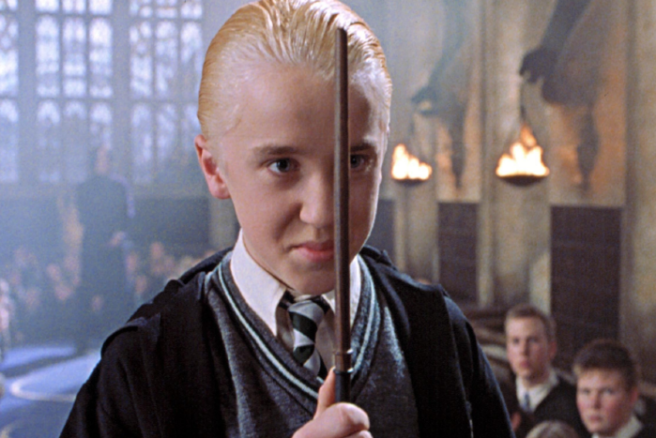 We all remember Draco Malfoy lighting up our screens as the sneaky Slytherin bully of the Harry Potter franchise.
Some of us (Emma Watson included) even had a gigantic crush on the bleach-blonde bad boy; Others just straight up hated him.
Love him or loath him, we can all admit that the actor who portrays the character is pretty incredible.
Tom Felton has played many a part since hanging up his Slytherin cloak, but most young fans will always see him as the cruel prankster who called Hermione a 'Mudblood' and shocked us to our core.
One young fan clearly agrees that he did a good job of making us hate him, but the actor makes sure to assure her that he's actually a lovely human being in real life.
Felton met a young fan this morning who rushed to hug him, and their exchange has warmed our ice cold hearts.
The star can be heard telling the little girl; "My name is Tom. I play Draco Malfoy. Do you wanna hear a secret? I'm nice in real life, it's only Draco that's mean. Tom is a really nice person."
"my name is tom. i play draco malfoy. do u wanna hear a secret? im nice in real life it's only draco thats mean tom is a really nice person" pic.twitter.com/W8Arr4cv1a

— cast of harry potter (@castofhp) January 28, 2017
The youngster is even clutching a wand, and clearly sees Tom through the eyes of an idolised fan. The viral clip has since racked up over 54,000 likes on Twitter and has been retweeted over 36,000 times.
Felton is clearly a kind-hearted person, and avid fans in the comments section who were lucky enough to have met him can attest to his compassion.
If anyone knows how we can get a hug from the actor, please let us know via owl post. We want to hear more of his secrets…
Feature image: Instagram/@tomfeltoner