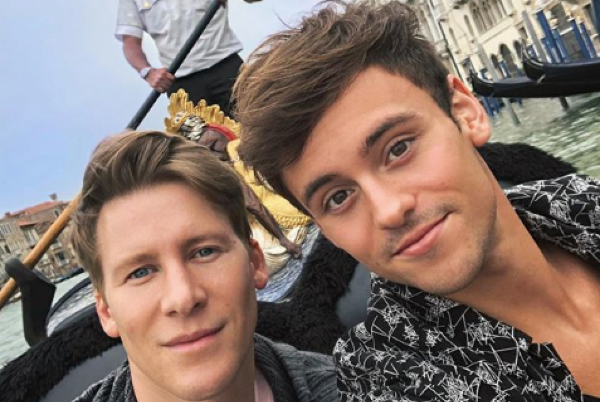 Tom Daley and husband, Dustin Lance Black have announced the birth of their first child.
The pair have welcomed a baby boy.
The couple revealed their happy news in the Times newspaper on Saturday and excitingly detailed the name they chose for their newborn.
The 24-year-old and film producer Dustin, who's 44-years-old, said in a statement to the paper:
"BLACK-DALEY: On 27th June 2018 to Thomas Robert Daley and Dustin Lance Black, a son, Robert Ray."
The name is thought to be a tribute to Tom's late father, Robert Daley.
The Olympic medalist took to Instagram back in February of this year, to share with fans that they were expecting.
On Valentine's day, he uploaded a sweet snap of the couple, along with an ultrasound.
He captioned the photo: "HAPPY VALENTINE'S DAY," and added two love hearts and a family-of-three emoji.
The diver had previously opened up to the Times about conceiving via a surrogate.
"We found an egg donor and we are the sperm donors, we have fertilised half the eggs each. We put in a boy embryo and a girl embryo and we don't know whose is whose. The next time we will do it the other way around."
"There are lots of people in this world that can't have kids, whether it's due to fertility issues or health issues, but whatever it may be, I don't think there would be as much drama if it was a straight couple," he added.
Last month, Tom and Dustin celebrated their one-year wedding anniversary.
The pair tied the knot on May 6, last year.
Congratulations to the happy family!