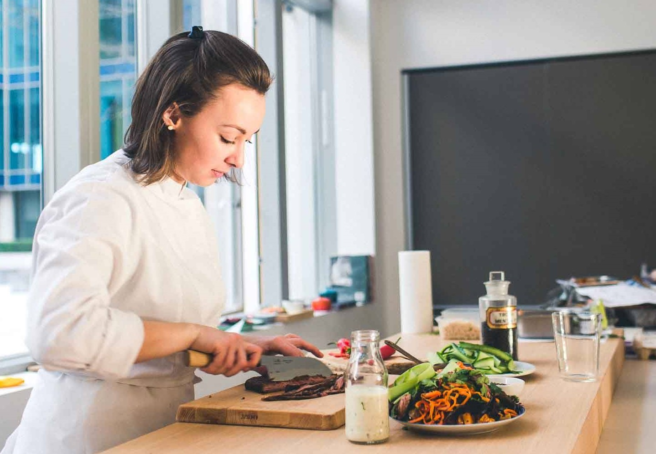 With three branches in Dublin – one currently hosting a smoothie bowl pop up – Cocu is one of our favourite places for a health food fix in town.
And we have asked founder of Cocu, Emilia Rowan, successful chef and entrepreneur, to share her food and drinks habits with us.
What is your typical breakfast?
I usually have eggs, smoked salmon and smashed avocado in Cocu.
What about lunch?
It is very boring, but I would mostly have a Cocu salad, or a wrap when I'm on the go.
I love sushi and ramen so I go to The Ramen Bar on South William Street when I meet my dad for lunch.
Another favourite is the "Al pastor tacos" in El Grito on Merchant's Arch – they do the most authentic tacos and it is always busy and affordable.
What do you usually have for dinner?
I love fish: it's quick and easy to prepare so perfect for dinner as I am usually home late.
It is different at the weekend, I would either be eating out or having people over to our flat. When eating out, I love a good pizza place, or a Bunsen!
Do you snack during the day?
I don't really snack, probably because I am working on my feet and on the move. I think if I was sitting at a desk all day I would probably snack to break up the day.
What would be your ideal food day?
Breakfast would be in Spain, a tostada with jamon iberico and tomato spread, a strong coffee and freshly squeezed orange juice.
Lunch would be moules frites and for dinner, I would share an Indian feast in Pickle Restaurant on Camden Street.
The one food you could have everyday for the rest of your life?
Eggs; I eat them every day, in lots of different ways.
What is your favourite dessert?
Vanilla ice cream with loads of hot chocolate sauce!
What is your favourite meal of the day?
Dinner, because there's time to enjoy it and I'm usually eating with either my boyfriend, family or friends. I love cooking dinner for anyone who is around.
Your favourite restaurant in Dublin/Ireland/the world?
Terra Madre on the quays: it is like you have stepped into an Italian family home. The food and welcome is the best, if I could eat there every day I would!
The world…Japan; I am dying to go to Japan and eat my way around.
The best brunch place in Dublin?
I'd have to say Cocu on Chatham Street! We do a healthy brunch there at the weekend and there is no booking needed.
I'm not a big fan of eating brunch around Dublin, I like to be more spontaneous at the weekends and most brunch places you have to book which doesn't really suit me.
Any "food pet peeves"?
Poorly filled sambos. I like mine to be packed with filling.
What food would you NEVER eat?
Not much, I will try anything once, and haven't come across much that I wouldn't eat again. I'm easy to please food wise.
What can we always find in your fridge?
Lemons and garlic. I would use both a lot in cooking, Lemons especially; if in doubt, add a squeeze of lemon or some zest.
You have friends over for dinner, what do you cook for them?
Anything and everything. I love cooking Middle Eastern things, as they're great for sharing.
My favourite cookbook at the moment is called Honey & Co (from a Middle Eastern restaurant in London). Last week, I cooked butterflied lamb with salad, hummus, pomegranate, pickled red onion and yoghurt. It was tasty and perfect for sharing.
Do you find it hard to eat a healthy diet in a daily basis?
Yes and no; I have pretty good habits generally. However if I am in any way hungover, the healthy diet gets derailed slightly. But there's no point not enjoying life, so I try not to beat myself up about it and annoyingly follow my dads advice of 'everything in moderation' – it is the best advice but I don't like telling him he's right!
What is your guilty pleasure?
Fried chicken from the chipper. A recent find and it is a serious guilty pleasure…
What is you go-to drink?
I love ice cold beers in a pub and if I need a pick me up, an espresso martini is my favourite.
Your favourite place for a drink in Dublin?
Slatterys in Rathmines. Great atmosphere and interesting people to chat to.