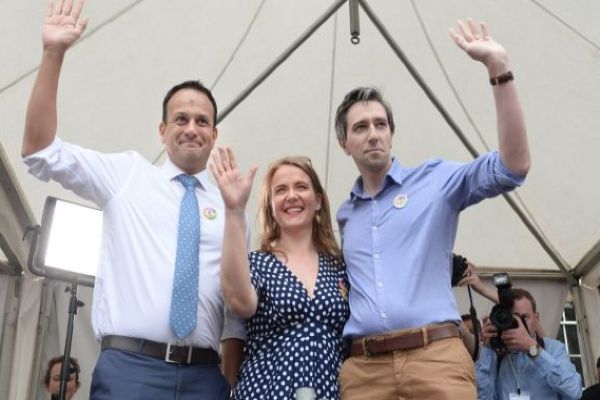 Simon Harris hopeful abortion law will be in place by end of 2018
Yesterday, Ireland voted by 66.4 percent to 33.6 percent to abolish the eighth amendment from our Constitution.
The turnout for this referendum exceeded that of the marriage referendum in 2015. Over 2,159,655 people came out and voted, with 1,429,981 people voting in favour of repealing the eighth amendment.
The Savita mural in Dublin right now @rtenews pic.twitter.com/cbE2z9nnHl

— Samantha Libreri (@SamanthaLibreri) May 26, 2018
The results have been welcomed by the public with hundreds gathering in Dublin Castle to hear the official results. The crowd erupted when it was revealed that the Yes side had succeeded. During the moving moment, the crowd started chanting 'Yes We Did'.
Speaking of the landslide victory, Leo Varadkar said: "Today is a historic day for Ireland. We're saying as a nation that we trust women and that we believe women should be respected in making the decisions they make."
It's a big YES from me. #Together2Vote #Together4Yes #repealthe8th #VoteYes #8thref pic.twitter.com/ExMVuVga2p

— Leo Varadkar (@campaignforleo) May 25, 2018
Minister for Health, Simon Harris, who has been hailed a hero for his support of the Yes side shared: "Yesterday our country said to women, we stand with you. We said to women -take our hand, not the boat. It has been incredible to stand shoulder to shoulder with you as we work to create a country which treats women with compassion. I will always be in your corner."
Following the Yes side's victory, Simon Harris revealed that the new legal framework to replace the Eighth Amendment will be drafted during the summer.
"Under the 8th amendment we said to women in crisis take the boat, or take the plane. Today we say take our hand" – @SimonHarrisTD #8thref pic.twitter.com/9yzRS3eCK6

— Sean Defoe (@SeanDefoe) May 26, 2018
He hopes that it will be in place by the end of the year.
The expected legislation will make abortion available for women who are no more than 12 weeks pregnant. Women won't have to give a reason for their decision and will need a GP to clarify that they are not passed the twelfth week of pregnancy.
Termination will be allowed past 12 weeks if:
The woman's health is in danger or her life is at risk
The foetus has not reached viability, and
It is appropriate to carry out the termination of pregnancy in order to avert that risk