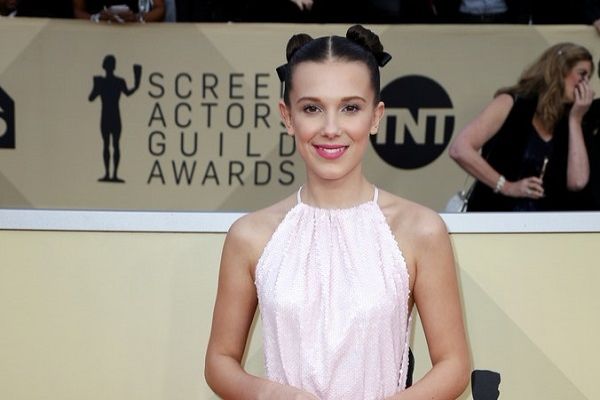 Millie Bobby Brown is the youngest person ever on Time 100 list
For someone so much younger than us, we sure do look up to Millie Bobby Brown.
The 14-year-old impressed us all when she first appeared onscreen as the enigmatic Eleven in Stranger Things. The English actress possesses a quiet intensity and talent that would impress at any age.
She's gone on to win a Screen Actors Guild Award and is soon making her feature film debut in Godzilla: King of the Monsters.
Now, the accomplished teenager has added another accolade: the youngest ever person to be named on Time's list of the 100 most influential people in the world.
Millie joins the likes of #MeToo founder Tarana Burke, Nicole Kidman, Cardi B, Taoiseach Leo Varadker, John Krasinski, and Meghan Markle, who are also featured on the Time 100 list for 2018.
Her profile was written by another beloved TV actor, Aaron Paul of Breaking Bad fame. The dad-of-one said he 'superfanned' the 14-year-old, so he and his wife met up with her to get ice cream.
Aaron soon realised getting a casual cone with Millie may have been a belittling move:
"The moment we started speaking, I realised we were in the wrong setting. I had thought, Oh, she's 12, let's get ice cream. No.
"She may have been 12 in years, but her spirit and mind were timeless. A wise woman was speaking from her cherubic face."
He continued,"It was like speaking to a future mentor with a perspective and groundedness that I could only have dreamed of at that age. Or at any age, if I'm being honest.
"Maybe that's why she's such an extraordinary actor. She somehow understands the human experience as if she has lived it for a thousand years. I'm proud to know her. To call her a friend. To call her my adopted daughter."
We are so thrilled for Millie; with her poise and talent, she deserves to make history.