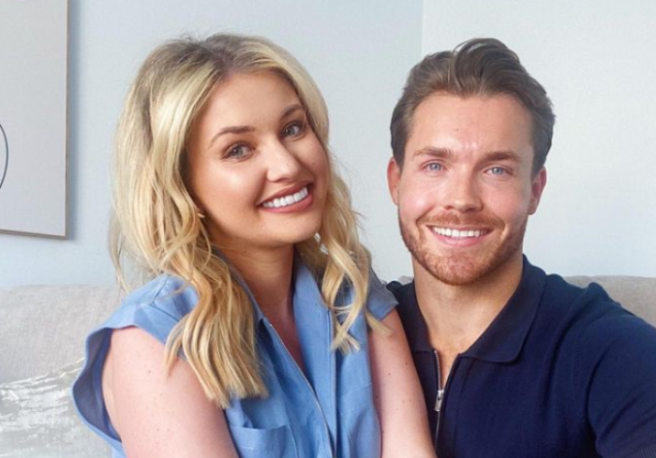 Love Island's Amy Hart reveals boyfriend Sam will propose this year
Amy Hart is hearing wedding bells!
The former Love Island star has admitted that she is expecting a proposal from boyfriend Sam Rason very soon.
The couple first started dating in April 2021, and have since become parents to a baby boy named Stanley, who was born on March 3.
After a whirlwind few years, Amy has admitted that she is now looking to the future.
The 30-year-old opened up in an Instagram Q&A last night, and was first asked if she knows what type of engagement ring she would like.
"I literally have no idea, I know what I don't want, Sam keeps saying we need to go to a jewellers and try some on so that's a job for next week when we're home!" Amy wrote, referring to the cruise holiday that the family-of-three are currently enjoying.
The reality star then shared if she has any trips to Disneyland planned in the near future.
"Maybe honeymoon? No plans at the mo to go there this year or next year (unless honeymoon) and then hopefully have a baby in 2025 so who knows!" she penned.
Understandably, a few of Amy's 1.1M followers were then convinced that she was already engaged. "Nooo…. This summer at some point," she clarified teasingly, before going on to explain.
"I told Sam he was not to propose whilst I was pregnant. We've talked about getting married from very early on in our relationship. We were actually drunkenly wedding planning on the way to Venice… and then came home preggo," she joked.
"All I know is that at some point we'll get engaged… I don't think that's that shocking when we live together and have a baby," Amy exclaimed in a later response, adding that "we knew it was a marriage kinda thing 6 months in."
Lastly, the mum-of-one was asked why she doesn't live her life unplanned. "I'd love to… but sadly if we want to achieve the goals Sam and I want in life we have to plan," she confessed.
"To be fair Stanley wasn't planned, I was planning to have a baby on my own and then met Sam, we'd like 3 or 4 kids and I have predicted early menopause so we have to plan," Amy concluded.